Yemen: Saudi-led coalition 'bombs MSF hospital' wounding seven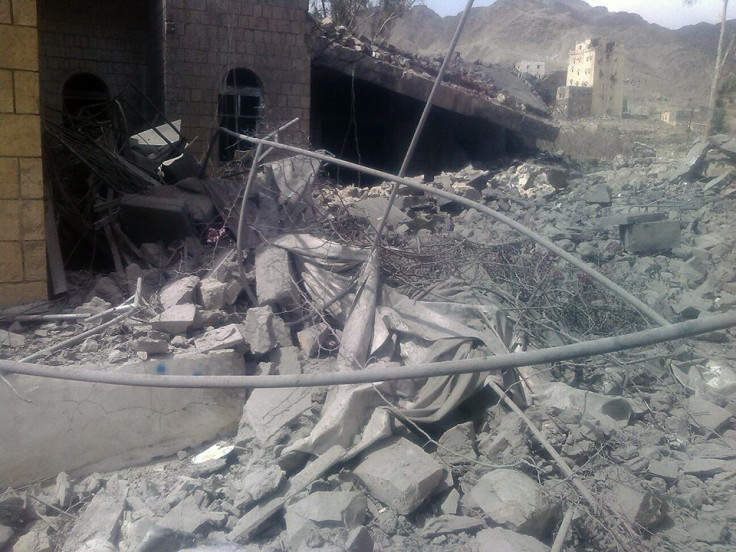 The Saudi-led coalition has bombed a mobile clinic of Doctors Without Borders (MSF) in southern Yemen wounding seven people, of which two are in critical condition, according to the medical organisation.
Tim Shenk, press officer for MSF, told IBTimes UK that medical team in Taiz is still collecting more information about the incident and providing treatment to those who were wounded in the air strikes. Clinical staff had evacuated the site before the aerial bombings on the al-Houban area, in al-Khashabeh village, where they had been working.
The attack is the fourth on an MSF facility in two months and the second in two days. A hospital supported by the organisation in Homs, Syria, was partially destroyed in a double-tap barrel bombing, killing seven people, including a young girl.
Double-tap tactics, in which the first bombing is followed by a second one after health professionals have arrived to cure the victims, bear the hallmark of the Syrian air force. The barrel bomb was dropped from a helicopter on a crowded area of Zafarana, in northern Homs, on Saturday, followed an hour later by two barrel bombs at the entrance of the MSF-backed hospital. A total of 47 people including both patients and medical staff were wounded in the attack.
MSF has been providing emergency medications and surgical supplies to hospitals in Taiz since early May 2015, and in the last two months has also provided medical care in the al-Hobuan area.
At the end of October, a Yemeni hospital in Sa'ada run by MSF was hit and destroyed by Saudi missile strikes. Yemen's state news agency Saba, which is now run by the Shia Houthi rebel group, quoted the hospital's director Doctor Ali Mughli as saying that several people were injured in the attack.
"The air raids resulted in the destruction of the entire hospital with all that was inside – devices and medical supplies – and the moderate wounding of several people," he said.
Earlier in October, the US bombed an MSF-run hospital in the Afghan city of Kunduz, killing 30 people and destroying an intensive care unit.
The bombing of MSF hospitals are the latest to strike civilians in the Saudi-led seventh-month air mission against the Houthis, who have seized Yemen's capital Sanaa. More than 5,600 people have died in the conflict and human rights groups have expressed concerns at the mounting number of civilian deaths caused by the aerial bombings.
On 28 September, an aerial bombing on a wedding party in Yemen killed at least 131 people, according to doctors.
© Copyright IBTimes 2023. All rights reserved.