Yemen's prolonged civil war which has claimed close to 9,000 people according to the UN, is now taking its toll on the captive animal population as well. Along with the residents of the southwestern city of Taiz, the local zoo's inhabitants are also suffering the effects of the war. With no food and water, the zoo animals are being left to die of starvation. Many of the animals have also succumbed to diseases and infections due to malnutrition and lack of medical aid.
According to reports, a lion's skin was riddled with sores and hung loosely on his skeletal frame, while endangered Arabian leopards that managed to survive, did so on the flesh of the zoo's other fallen animals, often other leopards.
Of the 280 animals in the zoo, 20 lions including two cubs, 26 Arabian leopards as well as Arabian deer, monkeys, porcupines, lynx, and eagles have become casualties of the war.
"When I first arrived, the scene was terrifying. Animals would be fed one day and not eat again for another five. They were bleeding, angry and would fight each other over any scraps to eat," one of the volunteers working at the zoo told Reuters.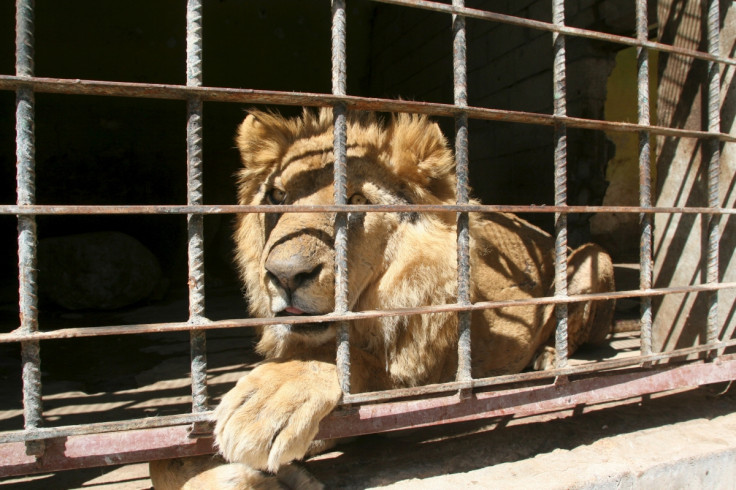 Most of the zoo's staff left once their salaries stopped, and the property is being managed by 17 remaining caretakers who continue to tend to the animals even though they have not been paid for months. In early February they appealed for help on social media through a collection of pictures of the emaciated animals along with the caption, "SOS Taiz zoo, animals are starving".
Chantal Jonkergouw, a bank worker from Sweden, took notice and started an online fund raising campaign to pay for food and medicines for the animals.
In less than two weeks, $33,000 (£23,000) was raised on generosity.com which was used to pay the caretakers, buy food and perform surgery on the sick lion.
Responding to criticism of her attention to the animals when Taiz's 240,000 residents were still suffering, Jonkergouw said: "People caused this conflict. Of course there are innocent people in trouble as well, but humans can often flee or develop some kind of alternatives. It's never the animals having this choice. It's not fair, and we have an obligation to help them."