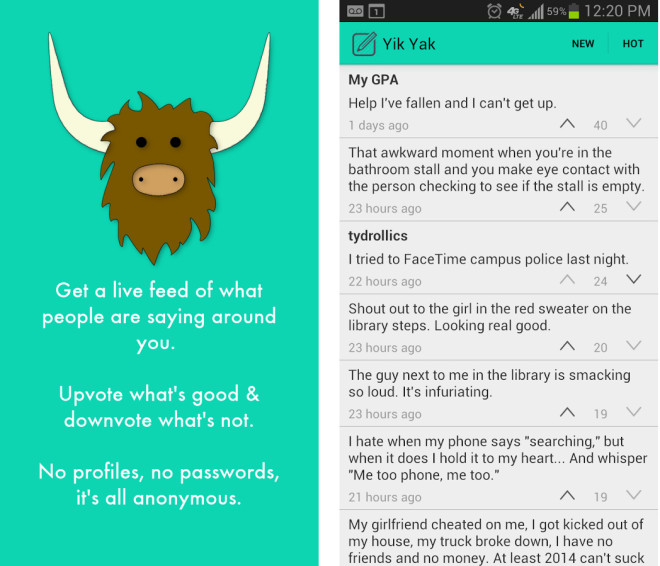 A free smartphone app allowing users to anonymously post messages about each other is now being banned from US high schools and middle schools because it is being used for vicious cyber bullying.
Yik Yak, which is only four months old, has roughly 200,000 users. The app has been likened to a virtual bathroom – it connects up to 500 users in the same geographic location to an anonymous chat room, where no pictures are allowed and posts have to be at most 200 characters in length.
Users don't have a profile, there are no passwords and according to the app's promotional video, "no traces" either.
Even worse, the content is completely moderated by the users, so the only way to remove an offensive post is to "dislike" it twice, or to send a screenshot of the post to the app's developers, who operate from a Gmail account.
Bomb threats and rape jokes

In Alabama, a teenager used Yik Yak to make school shooting threats at Marblehead High School last month, while in Orange County, California, threatening posts on the app caused a bomb scare at San Clemente High School and the school had to be locked down and searched by a bomb squad.
Four schools in the Chicago district have issued warning letters to parents asking them to make sure the apps were removed from their children's phones, after students reported cyberbullying.
"Students were actually coming downstairs to talk to administration and they were mentioning remarks posted and student names that were obvious so of course that is going to impact you," Asst. Vice Principal Melvin Soto of Whitney Young High School, told ABC Chicago.
"They ripped on someone about getting raped. That's so wrong. They said a whole lot of things about this girl but you knew that was the one that really got to her," said Rachel Brown, a junior at Whitney Young High School.
Not meant for under 17s
To deal with the situation in Chicago, Yik Yak's creators have disabled the app for the entire Chicago area and the app's developers are trying to find a way to prevent users below the age of 17 from being able to access the app.
"The app was made for college-age users or above, for college campuses and to act as a virtual bulletin board, so it acts as local Twitter for their campus," app co-founder Brooks Buffington told CNN.
"One of the things we were planning to do is to essentially geo-sense every high school and middle school in America, so if they try to open the app in their school, it will say something like 'no, no no, looks like you are trying to open the app on a high school or middle school and this is only for college kids,' and it will disable it and the app won't work."
The app's creators are also seeking third-party help to get the fix in place as soon as possible.
But is this enough to protect young people?
"If these things take off in the US, then they can take off in the UK, but we need to have good mechanisms for protecting abuse on these sites," Anastasia De Waal, chairman of Family Lives told IBTimes UK.
"It sounds like a lot of hard work for the company to be able to ban it and control it, and the problem is that if you try to ban something, people try to get around the ban. The best way would be to make sure that you can't behave like this on an app."
De Waal also stressed that children should be better educated on how their actions online affect others, and adults in schools leading programmes to tackle bullying need to be made aware of the new technologies children have access to.
In the UK, parents have already had enough problems with Ask.fm, a social network where users can ask questions and send messages to each other anonymously.
Four deaths have so far been linked with the social network, including that of 14-year-old Hannah Smith, from Lutterworth, Leicestershire, who was found hanged in her home in August 2013 after receiving numerous abusive messages from online trolls via the website.
The furore around Smith's death prompted Ask.fm to change its safety policy and create a category for users to report comments. Meanwhile in Parliament, David Cameron called for a boycott on websites that do not tackle online abuse.
According to charity BullyingUK, parents in Britain are increasingly becoming worried about the websites and smartphone apps that their children are using and the charity believes that more supervision into how children use social networks and the internet is necessary.
"Just as we teach children how to cross the road and how to swim, online activity and social media interaction should be initially supervised. Where possible, try to keep any computer or handheld devices in a room used by all the family and monitor how much time your child spends on the computer," Jeremy Todd, CEO of Bullying UK and Family Lives, told IBTimes UK.
"We encourage parents to talk to their children about how, when and why they use their mobile phone or internet. If they seem distressed after a phone call or time spent on the internet, try and find out the reasons for this. Vulnerable children can become so consumed by negative online comments towards them, it is crucial that a sense of perspective and proportion is injected by a role model to avoid issues spiralling out of control."
IBTimes UK has contacted Yik Yak to find out if the app can be blocked from schools in the UK as well, and to find out if the app is being used here yet.