Peter Sutcliffe, the "Yorkshire Ripper" who killed 13 women and tried to kill seven more between 1975 and 1980, has been told he is going blind.
Sutcliffe, 68, who was jailed in 1981, lost his left eye in an assault in 1997 when a fellow prisoner stabbed him with a pen. That attack also injured his right eye.
In 2007, Sutcliffe was attacked again, this time by murderer Patrick Sureda, who stabbed him in the face with a blunt knife yelling: "You fucking raping, murdering bastard, I'll blind your fucking other one."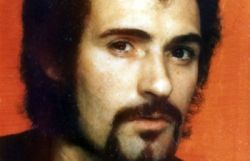 Sutcliffe narrowly avoided being blinded in the attack.
Sutcliffe's health has been poor in recent years, having had a hernia operation, raking cough, a heart attack and angina. He rejected the offer of laser surgery to improve his vision because he feared it may go wrong.
Now the notorious killer has been told sight in his right eye is failing because of a chronic medical condition, diabetic retinopathy.
A friend of the killer, who used hammers and knives to kill and mutilate women, said he is devastated at the prospect of being unable to read or watch TV, telling The Sun: "It is playing on his mind a lot and he is very upset." Sutcliffe didn't know how he would fill his time, he said.
Keeping Sutcliffe in Broadmoor costs the taxpayer £300,000 a year. Last month an appeal for him to be moved to Fieldhead Hospital, Wakefield, was rejected.
After the death of Jimmy Savile, it was revealed that the disgraced TV celebrity was briefly a suspect in the 1970s Ripper murders.
Savile and Sutcliffe were said to have become friends during Savile's visits to Broadmoor, including the one in 1991 where Savile introduced an unsuspecting Frank Bruno to the serial killer.