Every year millions of Christians celebrate Easter worldwide; they celebrate the gift of a new life, freedom and victory over evil and sin. Jerusalem becomes the focus of those celebrations as the city where Jesus spent years of his life praying, preaching, and spreading the message of faith and hope throughout the painful path of humiliation and imprisonment.
Thousands of pilgrims gather from all around the world in Jerusalem to celebrate and remember Jesus' path with special services and prayers. Today, these two thousand years of traditions that include the procession of pilgrims from Bethlehem to Jerusalem is prevented due to the Israeli isolation and annexation of occupied East Jerusalem.
The current situation of the city largely explains why there is no peace in our region. Israel's attempts at perpetuating its occupation is not making Jerusalem a safe place to celebrate joy and freedom, but a city that breathes hate rather than love.
While most international Christians enter occupied Jerusalem freely, the indigenous Palestinian Christians are prevented from entering their holy city and required military permits to visit. When I asked my youngest brother if he was coming to Jerusalem this Easter, he reminded me that he is denied access to Jerusalem since 1990.
I know my brother, and he is not a "security threat". Among these thousands of Palestinian worshippers, many, including my brother, are denied access and therefore, they are prohibited from joining their brothers and sisters in the Easter celebrations of Jerusalem.
Despite the holiness of Jerusalem and the international call for it to be a shared city among all of religions, Palestinian Muslims and Christians are facing restrictions and limitations to access and worshipping, while Israel attempts to turn Jerusalem into an exclusive Jewish city. As Patriarch Michael Sabbah once said, the Holy Land belongs to two nations and three religions. Inclusivity rather than exclusivity is the formula for peace.
Since 1967, Jerusalem has been under military occupation that practices discrimination against the Palestinian population of Jerusalem. The continuous annexation of land, demolitions of homes and eviction of Palestinian families has been aiming to eliminate the Palestinian social and religious fabric from the holy city, while replacing it with large expansions of illegal settlements doubled with a system of isolation and segregation.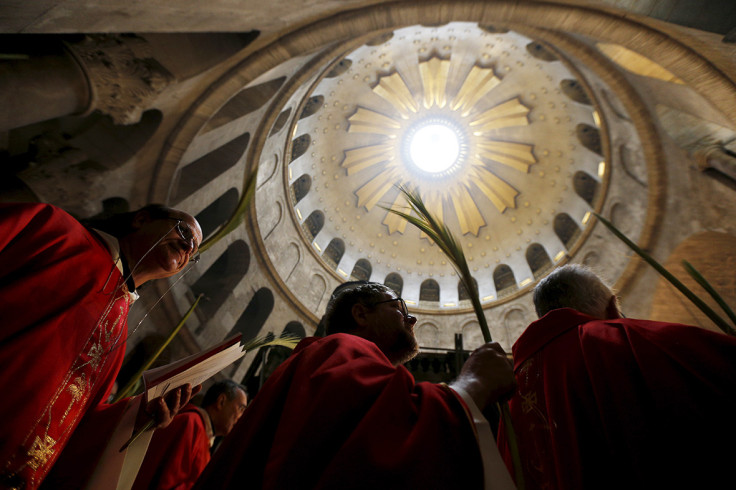 The Israeli authorities have institutionalised a system of restrictions based on checkpoints, permits and barriers to limit the movement and access of Palestinian from the West Bank and Gaza Strip to enter religious sites to worship.
This comes clear along with daily hardships for Palestinian Muslims to attend services at Al-Aqsa mosque and Christians' ability to enter the Church of the Holy Sepulcher in the heart of the city, while Jewish foreign settlers are granted access in a clear form of discrimination and repression that is highly concentrated in the city.
These clearly illegal policies reflect the Israeli violations of international and humanitarian law, which aim to turn Jerusalem into a city of conflict and suffering rather than a city of encounter and peace. A place where Palestinians suffer discrimination and occupation that is depraving them from all fundamental rights of freedom of movement, worship and celebrating religious holidays.
Monopolizing Jerusalem will not bring peace
Easter means a new life, freed from oppression and slavery. This new life is God-given to every human being. But this freedom and new life are obtained through suffering.
The Jewish Passover and the Christian Easter remind us that God is the Creator and the Liberator; He created all human beings at his image and resemblance; He sees the affliction of those who suffer, he hears the cry of the oppressed, and he come down to deliver them from the power of the mighty, for he "is aware of their sufferings", to bring them up to a good and spacious land, to a land flowing with milk and honey" (Ex. 3, 8).
The Palestinian people have an inalienable right to be free. Monopolizing the city of Jerusalem will not bring peace. We are here to stay and to worship God when "love and faithfulness meet together, and righteousness and peace kiss each other" (Ps 85, 10).
A future of peace begins with a present of justice. Open Jerusalem for everyone, end the occupation, and let us all worship God in truth and justice.
---
Father Jamal Khader is the rector of the Latin Patriarchate of Jerusalem's Seminary.
---