A top British political pollster is "unsurprised" by Labour's bad performance at the Sleaford and North Hykeham by-election on Thursday (8 December).
Anthony Wells, director of YouGov's political and social opinion polling, told IBTimes UK that the opposition party's result, which saw Labour drop from second to four place, was in line with national surveys.
"You wouldn't expect Labour to do particularly well in that area anyway because it's a safe Tory seat, but Labour are down in the national polls and they've got Jeremy Corbyn as leader – everything suggests Labour are doing quite badly," he said.
"It would be a surprise if Labour were doing well, but Labour doing badly is not a surprise to me given the state of national polls."
Wells' comments come just hours after Dr Caroline Johnson retained the Lincolnshire seat for the Conservatives, with an impressive vote share of more than 53%.
The by-election was triggered after the constituency's former MP Stephen Philips quit the House of Commons in November over the government's handling of Brexit. North Kesteven, which makes up part of the Sleaford and North Hykeham constituency, voted by more than 62% for Leave at the EU referendum in June.
Ukip leader Paul Nuttall and his predecessor Nigel Farage visited the seat ahead of the vote, but the party's vote share dropped from 15.7% at the general election to 13.5%. However, Ukip candidate Victoria Ayling secured a second place ahead of the Liberal Democrats and Labour.
"I wouldn't expect Ukip to do particularly well because their argument would have been that the government is 'betraying Brexit', but Theresa May currently appears to be delivering Brexit so they don't seem to have much of a case against the Tories at the moment," Well said.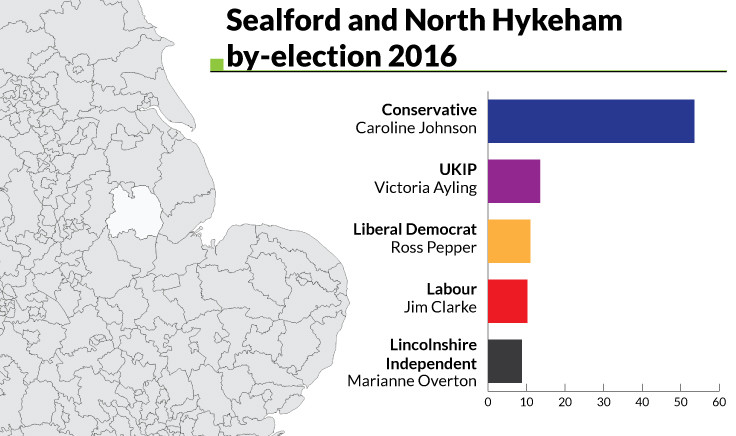 The vote comes after the Richmond Park by-election in West London on 2 December. The Liberal Democrats were able to unseat former Conservative MP and Leave backer Zac Goldsmith in a campaign dominated by Brexit.
Tim Farron claimed the Sleaford by-election shows that people are "clearly concerned" by the government's Brexit negotiations. "This result shows people are clearly concerned by the economic uncertainty caused by the government's Brexit negotiations and the run-down of NHS services," the Liberal Democrat leader said.
"With Labour yet again nowhere, and after losing their deposit in Richmond, the Liberal Democrats are the real opposition to the Conservative Brexit government. Even though this area voted Leave, the chaos of the government's Brexit negotiations has convinced many people that May's Hard Brexit strategy isn't working.
"The Ukip vote has dropped by 5,000 as voters see that there is no need to have a Ukip MP when sadly we effectively have a Ukip prime minister."