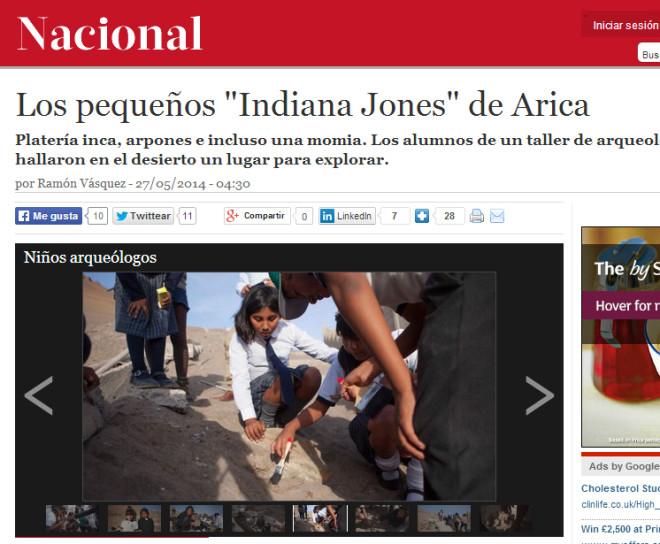 A group of school children on an archaeology field trip have discovered a complete 7,000-year-old mummy on a beach in Northern Chile.
According to La Tercera newspaper, 17 school children aged between 10 and 13 were sent to the El Laucho beach in the foothills of Morro de Arica, near the Peruvian border, to investigate a landslide caused by the 8.2-magnitude earthquake that hit the region on 1 April.
By accident, they discovered a mummy dating back to the ancient Chinchorro period. Chinchorro mummies are the oldest examples of mummified remains in the world, predating the ancient Egyptians by up to 4,000 years.
The students were part of an archaeological workshop programme organised for at-risk children from Escuela America school in Arica. The programme is run by school teacher Hans Neira, who notified authorities about the find.
"Living in a tri-border area, students find it harder to identify with their roots. By visiting archaeological remains in situ they witness their own history, the first inhabitants of the area and also from other eras. Now, the discovery of a mummy excites us because it is the main objective of the workshop," said Neira.
Officials from the Chilean National Heritage Office are now conducting a complete investigation into the discovered remains and the dig site, where a large number of artefacts have been discovered since the earthquake.
During the children's excursions, they have so far found Inca silver, spearheads, pottery and clothing that could date back to the Chilean War of the Pacific from 1879-1883.
Neira added that the El Laucho beach and its surrounding areas must be protected from looters as it could represent a great cemetery where many more treasures could yet be found.
The Chinchorro people were primarily fishermen. Between 7020 BC and 1500 BC, their settlements were located along the coast of the Atacama desert, from Ilo in Peru in the north to Antofagasta in the south.