Good Morning Britain is never without any dramas, with today's programme seeing controversial co-host Piers Morgan clash with a vegan campaigner.
British environmental and political activist George Monbiot came to blows with Morgan after comparing livestock farming to "slavery and genocide" and was called out for wearing leather items of clothing.
The 54-year-old slammed Morgan and called him "pathetic" for bringing the level of debate down by "deliberately trying to misunderstand" him.
He defended his leather watch strap and shoes, claiming that his watch will "last for several years" and is a "bi-product" of the meat industry.
Monbiot denied comparing livestock farming to slavery and genocide in the heated chat, telling Morgan: "Sorry I haven't compared it to any of those things. We look back to the past and things that horrify us.
"Future generations will look back to our age and think this. One of the things they'll be looking at is the way we treated animals and they'll be shocked by it.
"That's not to say it's morally similar to slavery or genocide but they will be shocked."
Morgan claimed he was reading the vegan campaigner's "exact words" and said he was "drawing an analogy", which enraged Monbiot. He responded: "I am saying this will horrify our descendants. Why is this hard for you to understand? You are meant to be an intelligent bloke. You are evidently deliberately trying to misunderstand what I said."
It appeared as though Monbiot was being ganged up on at one point when television chef Antony Worrall Thompson said that people need to have the choice and that his views were "completely unrealistic".
Morgan further hit a nerve when picking up on Monbiot's leather accessories, telling him: "So you've got no problem slaughtering animals if it's for your fancy watch and shoes."
Monbiot responded: "Oh for God's sake is this really the level of this debate? It's pathetic, you are pathetic."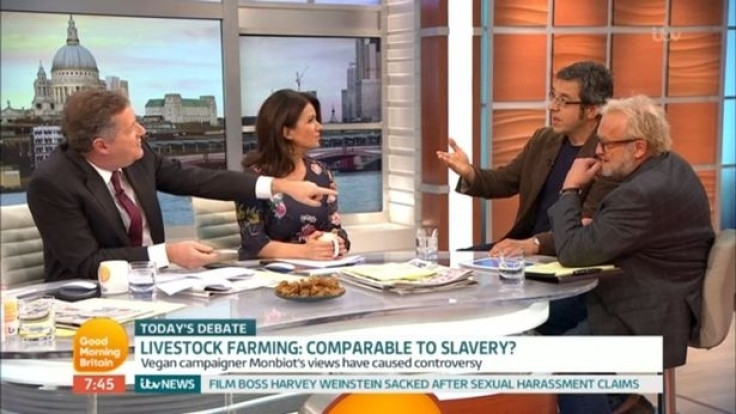 Viewers were quick to express their thoughts on Twitter, with one person commenting: "Vegan Campaigner on Good Morning Britain......wearing a leather watch and leather shoes! Safe to say @piersmorgan had him for breakfast".
Another tweeted: "Maybe Piers should have given the guests more time to put forward their argument in the vegan debate? #goodmorningbritain".
A third added: "Want's the world to go Vegan ... wears leather watch. Argument lost right there!"
Good Morning Britain airs weekdays at 6am on ITV.