YouTube live-streaming hits mobile app to rival Periscope and Facebook Live
Users will be able to broadcast live video to audiences at the press of a button.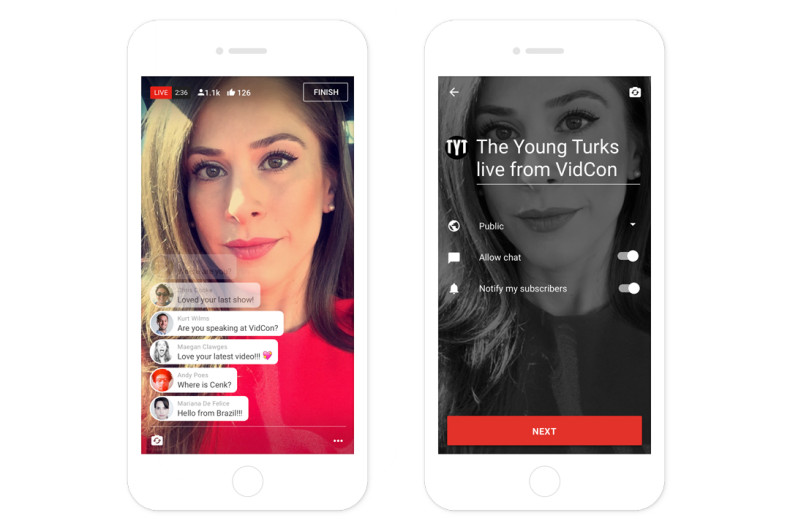 YouTube is introducing live video streaming to its mobile app. The new feature is currently being rolled out to select YouTube channels, in a move that will put it in direct competition with Twitter's Periscope.
To start a live stream, YouTube users will simply need to press the red capture button at the top right corner of the app and take or select a photo to use as a thumbnail. From there, users will be able to broadcast to audiences live. Mobile live streaming will have all the features supported by regular YouTube videos, meaning users will be able search for live streams, find them through recommendations and playlists and protect their own videos from unauthorised uses.
Live streaming has been available on YouTube's web service since 2011 and, in April this year, the Google-owned service introduced the ability to broadcast 360-degree video live to the website as part of its virtual reality push. Facebook has also introduced live video streaming in recent weeks.
The ability to live-stream from YouTube's mobile app will make it more of a challenger to Periscope, which is newer and has a smaller user base than Google's 11-year-old video streaming service. Twitter plans to integrate Periscope directly into its microblogging platform and is currently trialling the functionality with a small number of Apple users – meaning it will need to speed things up if it wants to stop YouTube pushing out the feature first.
YouTube is confident that its own service will offer the best user experience, claiming it will be "faster and more reliable than anything else out there."
The feature is being launched today (24 June) with YouTube channels including The Young Turks, AIB, Platica Polinesia, SacconeJolys, and Alex Wassabi. YouTube plans to roll it out more widely "soon".
A post on YouTube's Creator Blog read: "Today, we are announcing a new chapter in bringing the power of live video to creators everywhere. Soon, we'll be putting the power of YouTube live streaming in the palm of your hands."