YouTube stars Ally Law and Ryan Taylor have alleged to have broken into the Celebrity Big Brother House in what could be the biggest security breach in the show's history.
Law and Taylor shared footage of the 'break in' on Snapchat and have promised fans to post a full YouTube video of the stunt online, which features the pair filming CBB stars through a glass door.
The pair are renowned for their filmed break-ins and narrating them to their 1.1m combined following.
The video sees Taylor whispering to Law that they "have to be quick" as they appear to be filming through the front door of the famous house in east London. Stars Ashley James and Ann Widdecombe can be clearly seen standing in the living room in the shot.
Another point of the short clip sees Ginuwine and Jonny Mitchell at the bottom of the stairs, with Taylor's Snapchat showing Mitchell, Dapper Laughs and John Barnes talking in a circle with their backs to the camera, completely oblivious they were being filmed by intruders.
Fans took to Twitter to comment on the incident, with some claiming that the duo were caught and threatened with arrest. But Law and Taylor began retweeting those who said they were "eating cookies from Tesco", insinuating they had got away with the trespassing.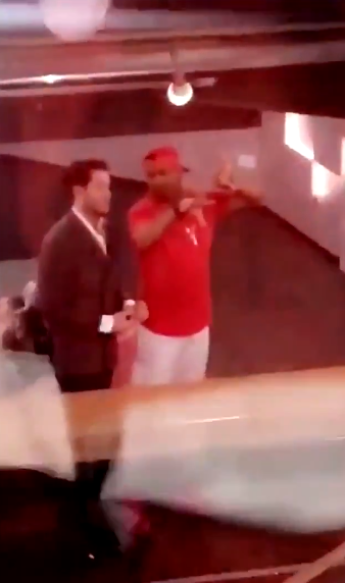 One distressed fan wrote: "This is shocking! Security needs to step up their game. That could have been someone with a weapon wanting to attack the celebrities! (I know it isn't) but still! #CBB."
While another said: "Ally Law is a youtuber, does overnight videos, sneaking into places like the o2, water parks etc. He got into the camera runs of the house last night but there's no video- assuming because he got caught, he was told not to put it online."
An upbeat Law took to Twitter to say: "Guuuuys, there should be a video tomorrow night! Bear with me, I've been stupidly busy."
Other stunts carried out by the YouTubers have included breaking into Bracknell's Coral Reef waterpark overnight and riding a BMX off a diving board at the Olympic pool.