Yusuf Yerkel: Erdogan Adviser Who Kicked Soma Protester was London PhD Student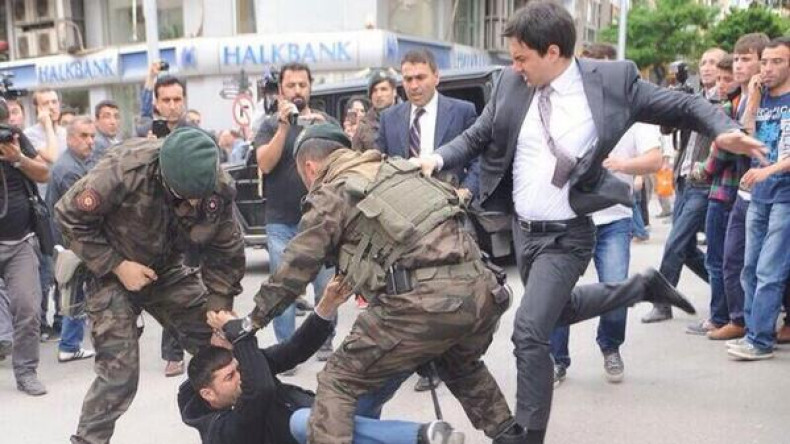 An adviser to prime minister Recep Tayyip Erdogan who has admitted kicking a protester in Soma is a former graduate student at London's Soas university.
Yusuf Yerkel, who in an telephone call with BBC Turkey acknowledged he was the man seen about to kick a protester in a widely circulated picture, was working on a PhD that compares Turkish and Iranian foreign policy post-1980.
Erdogan's adviser said that he will release a statement on the issue "as soon as possible".
A source at Soas said that Yerkel withdrew from the university when he was hired by the Turkish government around four years ago. He left the graduate programme without getting any qualifications from Soas.
Yerkel's listing on an academic website is therefore out of date.
In his study description, Yerkel wrote:
The research will be based on the role of imperial legacy and cultural identity in a way that labels global space, construct images of world politics and provide framework within which certain events and policies gains meaning, and shape the cognitive map of policymakers that eventually feed into the geopolitical thinking of Turkey and Iran.
Rather than employing traditional geopolitics, I will deploy a critical geopolitical discourse in a way that enables us to see how both states know, categorise and make sense of world politics which is primarily derived by interpretative cultural practice.
According to witnesses, two soldiers were holding down and interrogating a protester after he kicked an official car belonging to the convoy of the prime minister when Yerkel ran at the man and kicked him "three or four times".
The incident came as Erdogan is facing mounting criticism after the disaster killed 282 people, more than any previous disaster in Turkish history.
With more than 120 miners trapped underground and rescue hopes fading, the controversial PM said that labour accidents such as the coal mine explosion in Soma were "normal".
He was forced to take refuge in a shop in Soma as furious relatives besieged him.
A video that emerged online showed Erdogan being booed, whistled and heckled by an angry mob before he was escorted to a shop by his security team to escape them.
According to some reports, some people kicked his official car and while a crowd smashed up the local headquarters of the ruling AK Party.
Public anger has been fuelled by accusations that Erdogan's ruling AK Party dismissed a parliamentary motion submitted by the opposition Republican People's Party (CHP) to investigate safety in the Soma mines as recently as 29 April.
Erdogan rebutted the criticism, saying that the CHP motion had "nothing to do with the Soma mine."
Turkish trade unions have launched a one-day strike in protest at mine safety. According to Turkey's Mine Workers Union, between 2000 and 2009 there were 25,655 accidents in mines run by the government agency, resulting in 63 deaths and 26,324 injuries.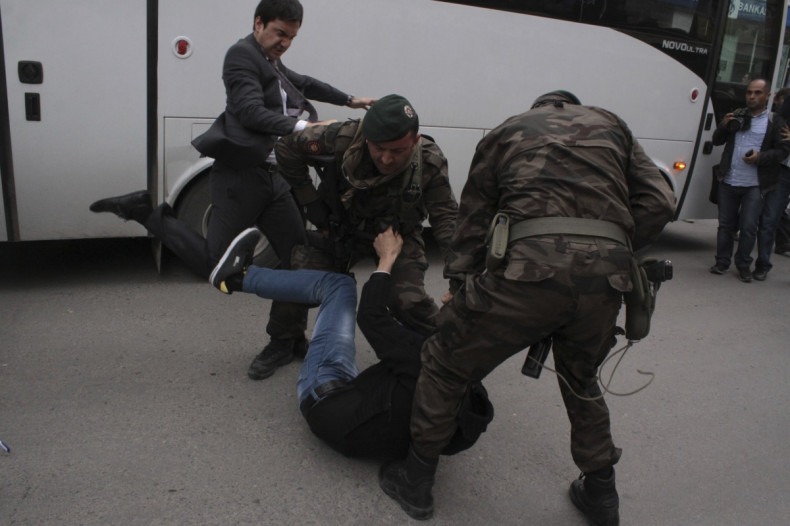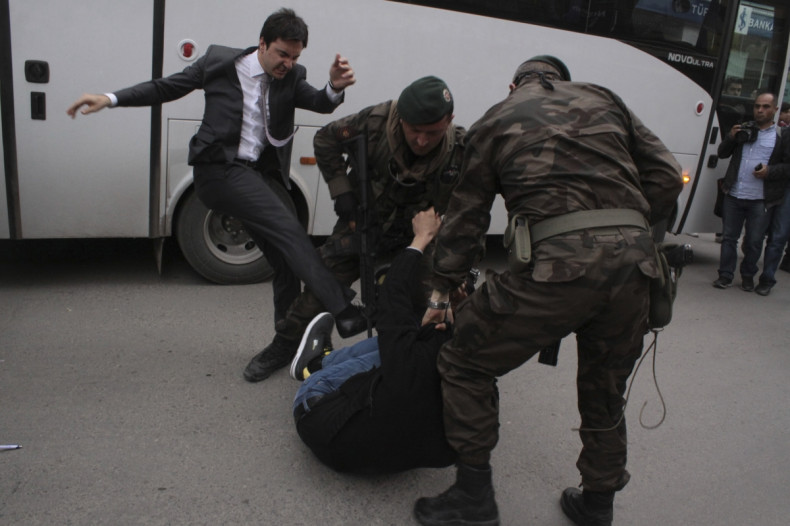 UPDATE: Soas has just issued the following statement on Facebook:
"We are receiving a great many queries about Yusuf Yerkel, advisor to Turkish Prime Minister Erdogan. Yusuf Yerkel was enrolled at SOAS, University of London between 27 September 2010 and 25 September 2011 but then withdrew from his studies. He has no association with SOAS."