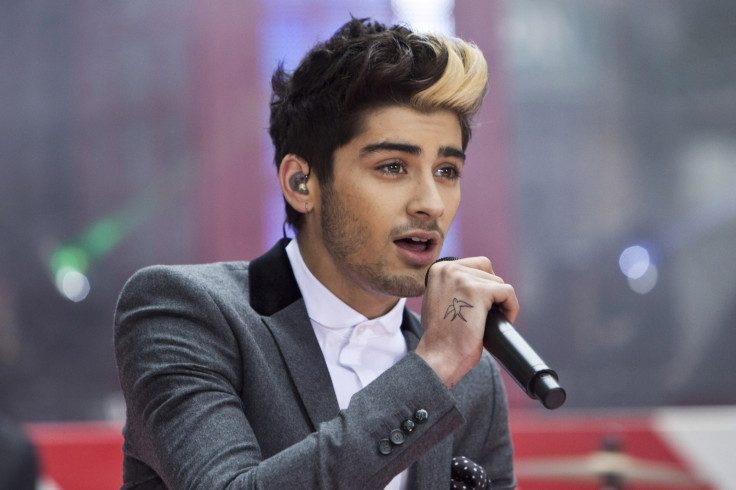 He quit the band in March, explaining that his reason for doing so was because he wanted to live the life of a "normal 22-year-old", but former One Direction member Zayn Malik has recently revealed his real intention when leaving was to make "real music."
The Bradford-born singer took to his Twitter account on 29 July to announce he had signed a deal with RCA Records, the American flagship owned by Sony Music Entertainment. He did so by posting a photograph of himself, happily signing what appear to be contracts, in front of a sign reading "RCA", indicating he was in an office of theirs at the time.
The label has represented a number of hugely successful artists such as Chris Brown, Shakira, Justin Timberlake and Alicia Keys. Malik has recently alluded to his love of more hip hop, dance-style tracks (expressed particularly by a brief collaboration with producer Naughty Boy), and chances are that when he finally comes to creating his under music under their direction, that will be his chosen sound. Naughty Boy has previously worked with the likes of Chipmunk, Wiley, Wiz Khalifa and Ella Eyre.
However, while many of his fans voiced their well-wishes towards his impending solo career, other were not so impressed as Malik accompanied the photo with another tweet saying: "I guess I never explained why I left, it was for this moment to be given the opportunity to show you who i really am! #realmusic #RCA !!"
His followers, many of whom are part of the 1D fandom, Directioners, picked up on the hashtag "#realmusic" and concluded this was some kind of dig at his former band and the music that they have released in the past. One Twitter user responded to his post, saying: "Real music? I love you and I'm happy for you, but don't ever forget how you got here," while another simply stated: "You can't say that..."
Others who voiced their opinion claimed his suggestion that his former music isn't "real" was "insulting to his old bandmates AND to the fans," while another account holder could not get over the fact that he had initially been "lying to [his] fans" about why he really left the group.
Angry Twitter user @Kiki_07_02_2000 even wrote: "I feel ripped off. Zayn said he wants to be normal and now he has left 1D to make 'real music'. Zayn? you're the a** in the world @zaynmalik." But some people wanted to keep a more neutral opinion, such as @loveshoods who wrote to Malik: "You know, 1D is real music too, but I understand what you mean. Be happy, Zayn, its not wrong," before wishing him good luck.
Despite the backlash, there were many fans of Malik on Twitter who didn't see the hashtag as a dig at this former band. Moreover, that he was seeing this as an opportunity to make the kind of music he has always wanted to, rather than being part of a band that he, as an individual, did not have much power over in terms of musical direction.
Many of his existing followers sent him words of encouragement such as "I'll always support you" and messages of congratulations. One user even acknowledged it must have taken guts to quit "the biggest boyband to pursue what [he] really likes to do" and called him embarking on a solo career a "brave move".