Nestled in the basement of 45 Frith Street, Zima opened at the end of March 2016 ready with mini bottles of infused vodka. Headed up by Russian chef, Alexei Zimin – a former chief editor for Russian GQ and now part of Moscow's Ragout restaurant and culinary school – Zima is bringing Russian street food to the alleys of Soho. Modern takes of Russian classics and infused vodka in the max 30-seater restaurant, get there before it fills.
Our verdict
Zima is definitely cosy. It\'s not made to look like it\'s ready for a fancy sit-down meal – this is for stopping in and having a quick dish and a vodka, in the style of traditional Russian cafes. The bowls are soviet metal and the chairs are straight. It\'s really quite lovely.
The bustling, compact space (it\'s quite small) makes you feel certain if you hung around for an evening, you\'d make some new friends, by will of vodka and sheer proximity. If you need a stop gap on your way between Soho plans, it would also do you fine, the food whipped up practically beside you in an open kitchen.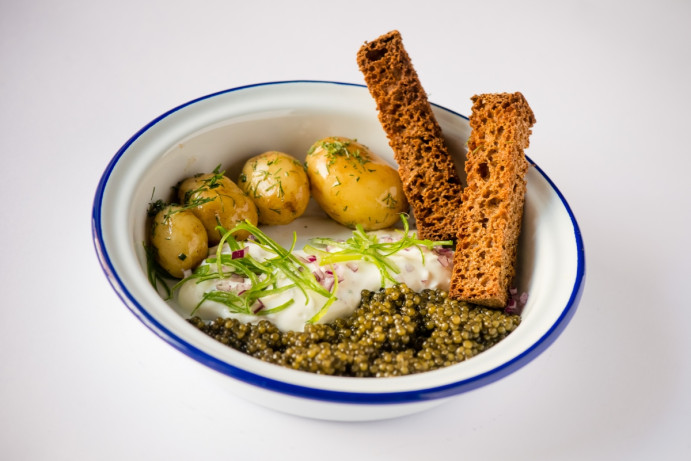 And there\'s food to go in for. The pickled cucumbers, tomatoes and grapes were surprisingly more-ish, something we didn\'t think would be the case with grapes, the sweet vinegary taste leaving us tingling. There are a few stalwarts on the board, we\'re told, but otherwise the menu changes between a few dishes that Zimin has picked up and perfected on travels around Russia.
The venison tartar was beautiful, spicy with horseradish and creamy. The stroganoff similarly kept our tastebuds happy. The caviar, if you\'re into that sort of thing, was perfect with a sour cream addition. Eating caviar and sipping vodka, it\'s how you might imagine the Moscow elite dining, if the space didn\'t feel as industrial. I would add that the vodkas kept us warm from the Siberian cold of Soho rain but our evening was unseasonably warm, so I won\'t.
The vodka infusions definitely steal the show though, they\'re delicious and exciting, you want to try them all (maybe pace yourself...). The horseradish infusion in particular captured our attention with its ability to add a little mouth-flourish to every one of the dishes.
Address: 45 Frith Street, W1D 4SD

Opening times: 5pm -1am

Telephone: 020 7494 9111

Website: zima.bar

Twitter: @ZIMA_Bar

Prices: £25 per head. 25ml vodka infusion = £3.50, 50ml = £6.70. Caviar = £1 per gram.
The borscht was lighter than expected, which I was told by my half-Polish dining companion is not the way borscht should be – though that might be a regional dispute. It wasn\'t bad borscht but it could have done with a kick.
We left merrier than when we went in, we probably could have stayed longer but Soho was at the doorstep and we wanted a cocktail. A few vodkas will do that to you, but so will a meal that was deceptively filling. Full of sour grapes and tartar, feeling a little bit hidden from the street, we\'ll be back.
NOTE: James Tennent's meal was courtesy of Jori White PR