Zimbabwe: Abducted, tortured activist says ill-treatment will not deter #Tajamuka movement
IBTimes UK meets activist Silvanos Mudzvova, who claims to be latest victim of regime's repression.
First Silvanos Bhanditi Mudzvova says they broke down his door, hooded him and threw him in the back of a car.
What happened next he is still unsure. But by the time IBTimes UK spoke to the man at the forefront of one of Zimbabwe's growing opposition movements, Mudzvova had managed to escape his abductors, and was recovering from hours of beatings and electric shocks.
In a country where the ruling Zanu-PF party has been accused of carrying out terror campaigns to muzzle opponents, Mudzvova is seen as a vocal activist within the Tajamuka movement. The peaceful campaign, which largely organised and mobilised anti-government protests via social media, has vowed to continue the struggle against the nation's political leadership until President Robert Mugabe steps down after almost four decades in power.
'I could see were men pointing two AK47 guns to my face'
"Around 22:45 (on 13 September) they broke down my door, and the next thing that I could see were men pointing two AK47 guns to my face. There were so many of them I couldn't count. Soon after that they put a sack on my head and then lifted me and brought me to their car that was parked outside my house," Mudzvova exclusively told IBTimes UK from a secret location.
While he says he was unable to identify his abductors, the activist, who is a playwright, said around half a dozen men held his family at gunpoint as he was dragged out of his home in the capital, Harare. "They had very big guns when they abducted me – and these are rare to find around – so I suspect people who abducted me are part of the security apparatus," he said.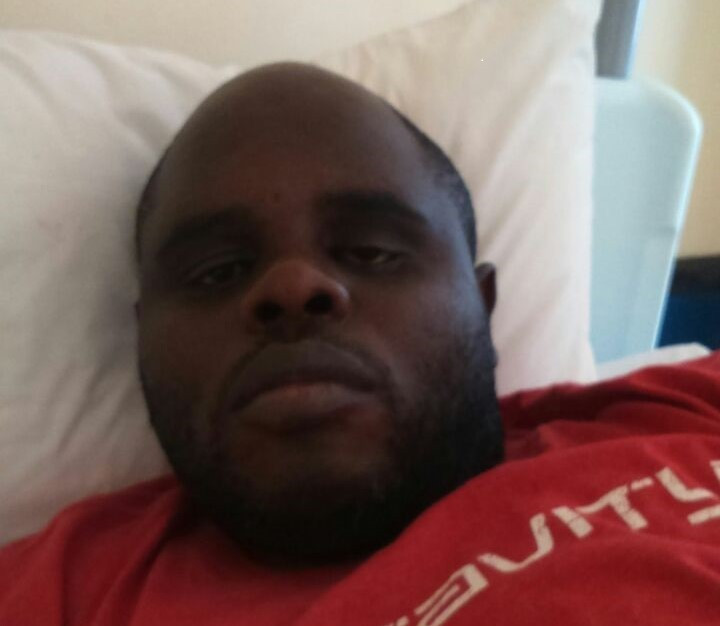 Tajamuka activist Silvanos Mudzova, who says he was abducted, tortured and injected with an unknown substance, spoke to IBTimes UK from a secret location where he has been bed-ridden since leaving hospital
IBTimes UK
Hooded throughout the whole ordeal, Mudzvova lost track of time as he was driven to an unknown location and then thrown out of a vehicle. "They took me out when we arrived, and they started applying electrical shocks, and asking me questions," he added, describing how he was wounded by sharp objects.
"I am not really sure what exactly they did to me or what they used to torture me because my head was in a sack the whole time, so that I could not identify their faces. But I know that they first applied the electrical shocks to my toes, leg, then they moved the shock to my genitals, which resulted in me developing stomach problems," the activist, who was previously attacked in 2013 after writing and staging a surprise play about Zimbabweans plotting their Arab Spring uprising, said.
After three sessions of electrical shocks, he says, abductors proceeded interrogating him some more: Who was actually funding Tajamuka? Who was behind the NGOs supporting Tajamuka? Why were Tajamuka activists were so trained in terms of carrying out their actions? Did they actually go to military training for it? Were planning to bomb the state house?
"When I told them we (Tajamuka) don't represent that, they resumed the electrical shocks all over my body but you can now see that they avoided the head," Mudzvova said, pointing to the fact that his face does not bear torture marks, unlike the rest of his body. "That leads me to believe these are professional people who were doing it."
After he systematically refused to reveal names and contact details of members of Tajamuka, Mudzvova says the unidentified men were interrupted by local fishermen who were coming back after a night of fishing.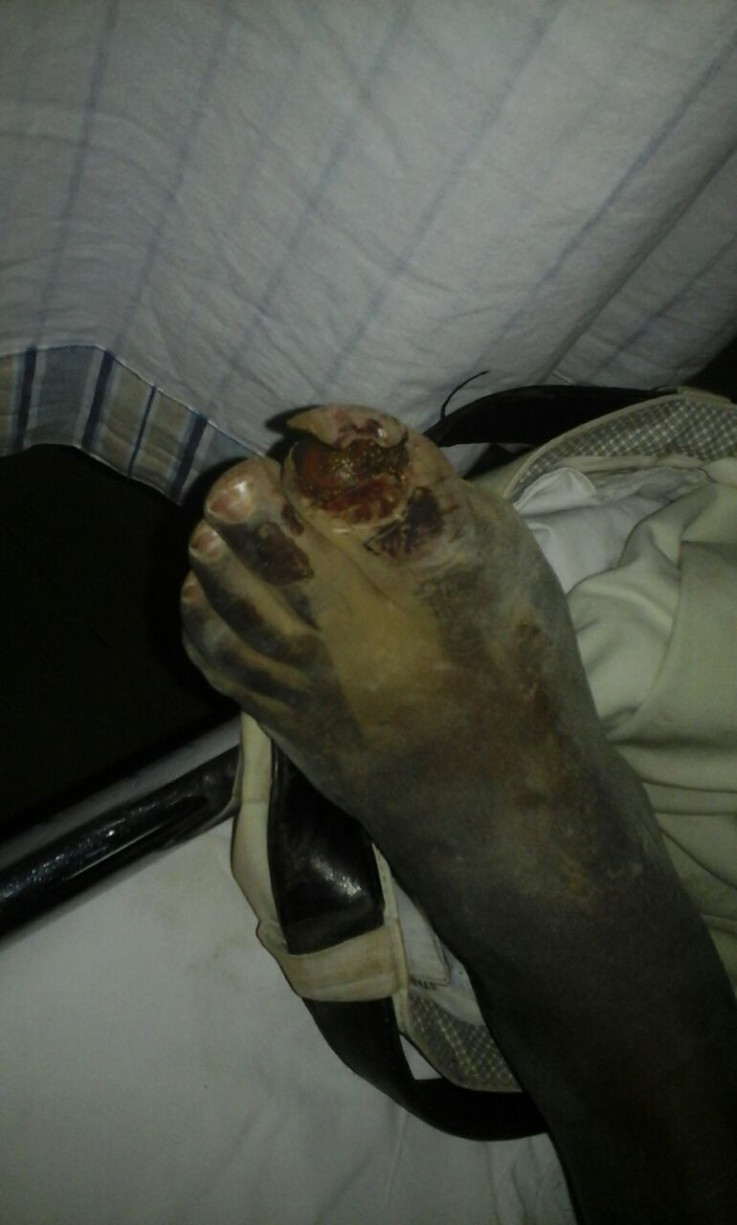 Tajamuka activist Silvanos Mudzova shows off what he says are injuries he sustained when he was allegedly abducted and tortured last week
IBTimes UK
The activist described how the fishermen grew suspicious of finding five cars parked in the middle of the bush at night-time and got involved. "That's when the men actually fired in the air, and the villagers started running away but I heard them telling each other to mobilise other villagers to come and see what was happening," he said.
'I told them I had been injected with a substance'
That's when Mudzvova claims he was injected with an unknown substance. "They injected me in the left buttock as soon as the fishermen interrupted (them)."
That the fishermen returned after his abductors sped off leaving him for dead at about 03:00am.
"When they arrived I was on the floor, I couldn't get up or anything, and they started asking me questions. I asked for their assistance, I told them I had been injected with a substance. Some of the fisherman were former military so they were confused when I said I didn't feel any different after the injection – so they just tried to neutralise the effects with a dozen litres of water: I ended up vomiting the water through the nose and the mouth."
That's when the activist found out that he had been driven about 50km from his house.
After around two hours, assisted by the local MP, Mudzvova was taken to the hospital where he was treated for external wounds and blood samples were taken. His ordeal did not end there, however.
"A day later I started experiencing a lot of constipation problems, I could not relieve myself and felt a lot of pain. That's when they realised there were internal injuries and problems with my stomach that had been moved from its original position so they operated on me."
Afters spending two days in hospital recovering, Mudzvova found the strength to call the police to tell them what had happened, that he had been admitted to hospital and asked them to send police officers to file a report.
"But it's now seven days later and they haven't even responded. As soon as I am recovered I will actually go there and do a follow-up, file a report."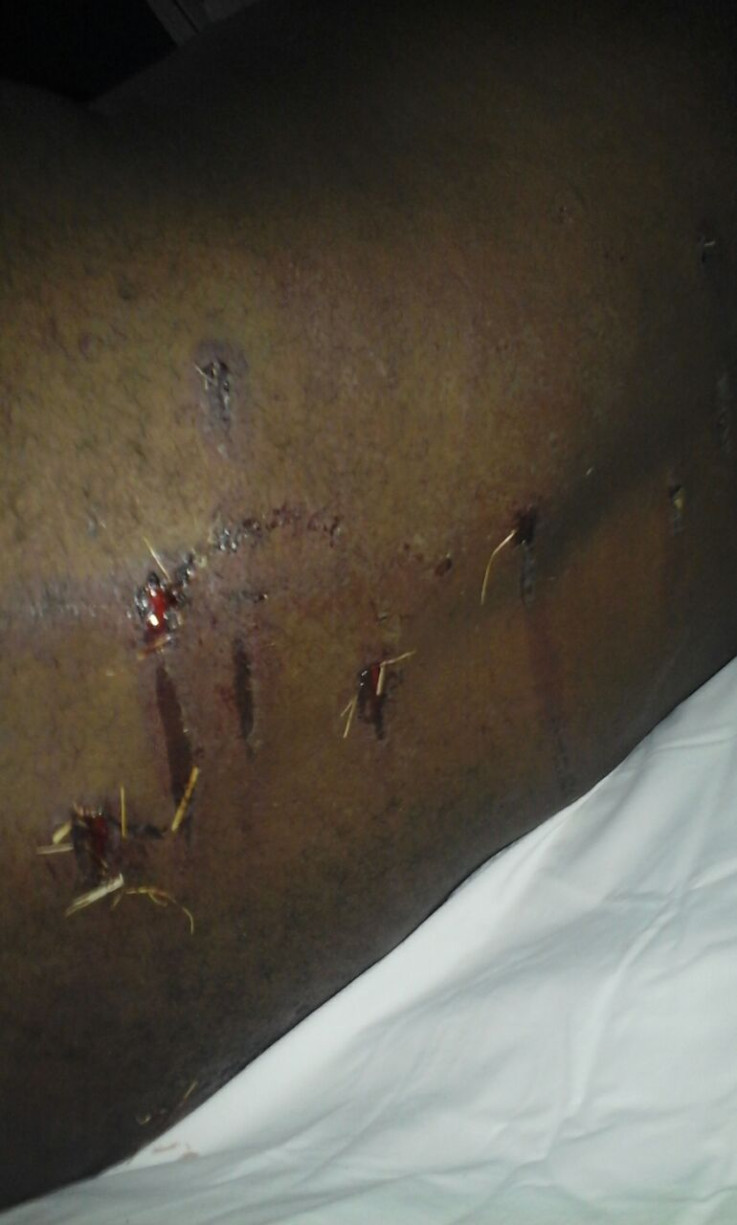 Activist Silvanos Mudzova shows some of the external wounds he claims unidentified inflicted him with sharp objects
IBTimes UK
'We were expecting it. Unfortunately, it happened to me'
While he explained that nothing was found after his blood samples were analysed, doctors urged him to get them tested in neighbouring countries with more advanced equipment. "The doctors are positive that it might be something that stays in the body for a few months before it comes out," Mudzvova said, optimistic that he will one day be able to provide evidence against his abductors.
Ten days after this nightmare, bed-ridden Mudzvova faces two challenges. While he has had to relocate his family to a more secure place and cannot easily travel, the activist still does not have enough resources to travel to South Africa to undergo further analyses.
"The problem with going back home is that I think they still want more information so I fear that, because they have done it once before, they can do it again," he explained. "When Tajamuka started, we knew that one day definitely something would happen, we were expecting it. Unfortunately, it happened to me."
Explaining that this violent incident "certainly put down the morale of some of the other guys", Mudzvova explained that Tajamuka members met up three days ago (20 September) and decided to re-mobilise. "We said we should not let this affect morale, that we still have people pushing and we need to continue pushing them. We are regrouping again. We need to make sure they (government) keep panicking, because they don't know where we are coming from and didn't expect us to be this powerful. Tajamuka shocked them and they are trying to get to the bottom of us to stop it. We are actually saying we will not stop until Mugabe goes."
A spokesperson from Tajamuka said in a statement: "We condemn in the strongest terms the abductions and arbitrary arrests of citizens by the State on frivolous and trumped charges."
Government officials are yet to comment on Mudzvova's claims.
In March 2015, Itai Dzamara, the head of the Occupy Africa Unity Square campaign, who publicly criticised Mugabe and urged him to resign, was abducted by five men from a barber shop in Harare. His whereabouts remain a mystery, and his supporters and family fear he may have been killed.
State officials have denied any involvement with Dzamara's disappearance.