Supporters of a protest movement in Zimbabwe have vowed to march to the nation's government buildings until President Robert Mugabe steps down, despite of repression fears following reports of police brutality on protesters.
After almost four decades of quelled frustrations under Mugabe's iron-fisted rule, a flurry of citizen or civil activism movements have been rising and spreading in the South African nation, and are calling for much yearned social, political and economic change – areas where they believe standard opposition politics have not delivered as hoped.
Two of these peaceful campaigns, known as #ThisFlag and Tajamuka/Sesjikile, have vowed to continue the struggle against the nation's political leadership until Mugabe steps down, in spite of reports of a regain in brutality from the security forces on protesters in the capital Harare on 17 August.
Several people were left injured when dozens of police officers in riot gear fired tear gas and water cannon, and beat unarmed protesters with batons.
Obert Gutu, national spokesperson of the opposition MDC-T party – led by Morgan Tsvangirai on Twitter – condemned the 'rogue state's' repression on the estimated 200 protesters carrying flowers for peace and holding posters reading: 'Mugabe Must Go'.
Tajamuka: 'We will no longer leave the streets'
"The repression will continue because Robert Mugabe is giving the assertion he doesn't want to go, at the same time Zimbabweans are very angry and hungry. When people are angry, you cannot expect them to remain quiet, they will complain and when they keep on complaining and the demonstrations are going ahead," a member of the Tajamuka campaign, Silvanos Bhanditi Mudzvova, exclusively told IBTimes UK from Harare.
Highlighting how dozens of demonstrators had returned to the streets on 18 August a day after police quashed the peaceful demonstration, Mudzvova confirmed Tajamuka intended to step up its mass actions.
"Each and everyday we are planning a demonstration so that by the time we reach 1 September, we will announce we will no longer leave the streets. This is going to happen day and night," he warned, adding that the campaign has been mobilising supporters in both town and rural areas.
"We are planning a shutdown on 31 August – we want people to stay at home – to show the regime that we no longer want anything to do with them. After that, we are planning much larger demonstrations during which we will aim for the Parliament of Harare. Then we will move over to the government and president's offices."
When asked whether he believed protesters were putting themselves at risk by carrying out such protest demonstrations, Mudzvova said: "Our march is very simple and we will not be violent against anybody".
"We are actually demanding what is rightfully ours. If we don't go to the president's office, even if we do demonstrate in the streets, the same thing will continue happening. Whether we demonstrate here or there makes no difference as they (authorities) will be against us."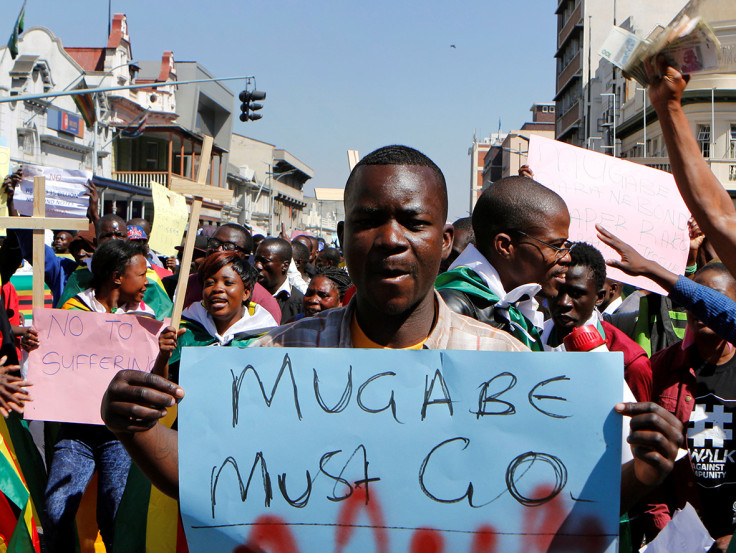 Magaisa: 'The military are prepared for any kind of action'
For Zimbabwean lawyer Alex Magaisa, protesters are likely to face "increasing repression". "We can see it by the manner in which the state is responding violently and we do know this is quite consistent with how (ruling party) Zanu PF behaves whenever it is facing a threat," the former adviser to ex-prime minister Tsvangirai told IBTimes UK.
"We know how they responded in the 1980s with the Gukurahundi atrocities in Matabeleland, and in 2005 with the Operation Murambatsvina, and again in 2008 after Mugabe lost the election to Morgan Tsvangirai. Their response was very brutal: more than 200 people killed and thousands displaced, according to human rights organisations."
Historical papers have implicated Mugabe in orchestrating the 1980s Gukurahundi killings of an estimated 20,000 for political gain. Some 700,000 people were directly affected by the regime's 2008 Murambatsvina campaign (Drive Out Rubbish in Shona) through loss of their property, homes or livelihood. In total, an estimated 2.4 million people were indirectly affected by the mass evictions.
While the head of state faces a real threat of split within the armed forces, Magaisa believes the army could be used to help contain demonstrations.
"We've seen how the military has been brought in to come out spoken in defense of Mugabe and the regime that they are prepared for any kind of action," the lawyer said in reference to comments by the commander of Zimbabwe Defence forces (ZDF)'s who claimed that the army "stand(s) firm and unequivocally" behind Mugabe.
He added: "I do believe that the international community should really keep Zimbabwe on the radar and watch carefully because things could very easily escalate into something worse that is happening now. We know that there are many hotspots around the world but what you don't want is to have a similar situation taking place in Zimbabwe.