Zimbabwe: Grace Mugabe has no intentions to replace President Robert Mugabe says Zanu-PF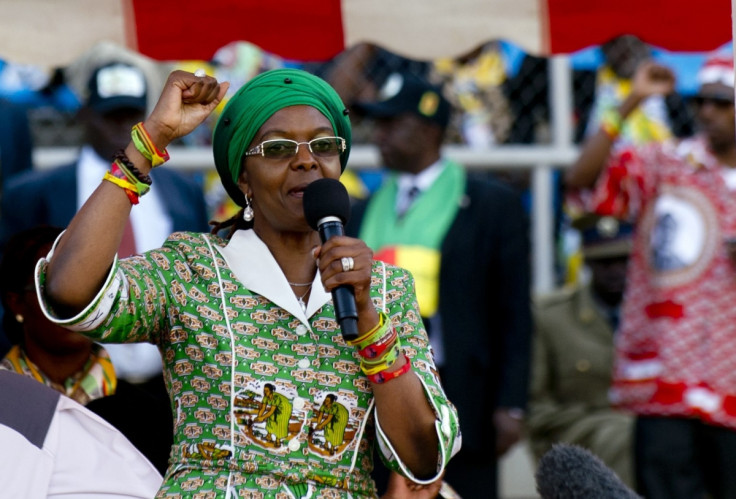 Zimbabwe's First Lady Grace Mugabe has no presidential ambitions and will not run to succeed to her 92-year old husband President Robert Mugabe, the ruling Zanu-PF party has claimed.
Since 2014, when she became politically active having been endorsed as head of the ruling Zanu-PF party's women's league, Mrs Mugabe has been in the middle of an increasingly vitriolic fight for power in a post-Mugabe era.
This position has allowed her to sit on the party's powerful politburo, where she has enjoyed the support of senior party members from Generation 40 (G40), one of two groups fighting to control Zanu-PF. G40 is a younger faction not ideologically different to Team Lacoste.
While Stephen Chan, Professor of International Relations at SOAS at the University of London, told IBTimes UK the succession race is likely to pit the First Lady against the current vice president Emmerson Mnangagwa, a senior Zanu-PF official this weekend rejected the claims.

Grace Mugabe 'never said she wants to rule Zimbabwe'
Speaking at Museva Village in Chivi South, where she was representing Mrs Mugabe, 50, at the handover of a new church, Zanu-PF Deputy Secretary for Women's Affairs Eunice Sandi Moyo said the First Lady was only standing in defence of her husband against people who want to force the President to step down before the end of his term of office.
During the ceremony, Moyo explained Mrs Mugabe is attacked for speaking on behalf of all Zimbabweans who support her husband's leadership, according to local newspaper the Herald.
"There are some people who are targeting the President's wife because they are so scared of the power that she is trying to protect. The First Lady is only supporting her husband but there are some people who want to mislead Zimbabweans into believing otherwise," Moyo is quoted as saying. "She never said she wants to rule this country; let her speak for everyone and she deserves the support of everyone. She stands up because she is the image of the Mugabe home."
Moyo said Mugabe was anointed by God to rule the former agricultural powerhouse, and would only step down when God wants him to do so. "Don't be misled by people who want to force President Mugabe to step down. He continues to rule this country because God wants him to continue doing so, you are going to have another leader at some point but for now President Mugabe is in charge."
Earlier in March Mugabe quashed any debate about his succession after he claimed he will rule until he is 100.
© Copyright IBTimes 2023. All rights reserved.