Zimbabwe has rejected a United Nations (UN) appeal to implement gay rights.
Under the nation's 2006 laws, homosexuality is a crime. Known for his brutal crusades against homosexuality, President Robert Mugabe has made a number of homophobic statements over the years, going as far as describing being gay as "un-African" and defining it as an imported "white disease".
In 2014, the head of state pledged to fight against the idea that gay rights are the equivalent of human rights. In September last year, the leader ranted about "new rights" for gay people in the US in a speech to the United Nations (UN) General Assembly.
The Zimbabwean government last week presented its human rights national report for its Universal Periodic Review (UPR), a process used by the UN to review and seek to improve the human rights situations of all UN state members.
After reviewing the report – which had input from Harare, the Zimbabwe Human Rights Commission, civil society and UN agencies – the UN Human Rights Council (HRC) made a number of recommendations, including decriminalising same-sex marriages for consenting adults.
Following the meeting, on 4 September Vice President Emmerson Mnangagwa said his government had accepted 142 recommendations, but had turned down the UN's call on homosexuality.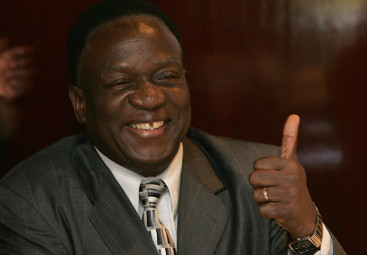 "With regards to areas that we felt we would not accept, it is issues of gays and homosexuality, which is unlawful in our country," Mnangagwa told The Herald newspaper.
"We rejected all those. There are a few countries in Europe which recommended that we reconsider our position with regards to adults of the same sex marrying each other. That we have rejected."
Mugabe previously stated that the recognition of homosexuality was an offence to the institution of marriage between a man and a woman, and the 92 year old was quoted as saying that homosexuals are "worse than pigs and dogs".
The southern African nation's new constitution kept a same-sex marriage ban, effectively making gay and lesbian relations a criminal offence, and remains silent on specific rights of the LGBTIQ community. Signed into state law by Mugabe in May 2013, Article 78(3) of the Constitution states that "persons of the same sex are prohibited from marrying each other".
The vice president, meanwhile, said the African nation was committed to "upholding human rights and fundamental freedoms of its people and fulfilling its international rights obligations".
Following the last UPR session, Zimbabwe took on-board a number of recommendations, which the government said it is already implementing. Zimbabwe was among several African states including Tanzania, Malawi and Gambia, to ban child marriages this year, and Harare has been commended for its Aids prevention and awareness efforts.
The HRC is made up of 47 UN member states. Every country's rights situation is reviewed every 4.5 years.