One of Zimbabwe's civil activism movements has launched a campaign to demand that police officers wear an identifying number to ensure citizens and authorities can investigate cases of alleged police brutality. Two peaceful campaigns, known as #ThisFlag and Tajamuka/Sesjikile, have vowed to continue the struggle against the nation's political leadership until President Robert Mugabe steps down.
Their pledge comes in spite of reports of brutality from the security forces as peaceful protesters called for an immediate end to the current economic and political crisis in the capital Harare on 17 August.
Several people were left injured when dozens of police officers in riot gear fired tear gas and water cannon, and beat unarmed protesters with batons.
Tajamuka: 'Shocked' by police's brutality
"All Zimbabweans are affected by the crisis and you find that most of the police officers are living below the poverty line in this country," a member of Tajamuka campaign, Silvanos Bhanditi Mudzvova, said referring to the cash-strapped government's recent failures to pay wages to its civil servants – including police and military.
Exclusively speaking IBTimes UK from Harare, Mudzvova added: "(So) we are absolutely shocked by the way that they beat people who are actually calling for them to have a better life."
Describing how parts of the police force "have become hard-headed", the activist revealed the movement has been petitioning legislators and human rights lawyers to ensure mechanisms are put in place to enable citizens to hold accountable police accused of brutality.
According to the activist, legislator Nelson Chamisa, MP for Kuwadzana East and a vice president in the opposition party MDC-T led by Morgan Tsvangirai, raised the issue in Parliament after the 17 August violence.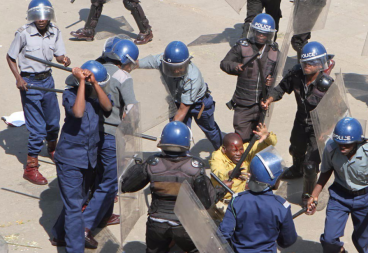 "We have created mechanisms that we think can should be put in place to easily expose (the officers) for what they are. So that, at least, they know the Zimbabweans are watching and are not here to allow everything," Mudzvova explained.
Petitioning legislators, police commissioners
Tajamuka is currently carrying out an identification process to confirm the names of police officers involved in the violence. Working with a human rights lawyer, who IBTimes UK can not name, the group is hoping to make a court application "to charge everybody that used violence".
The campaign group said it is also planning to petition Police Commissioner-General Augustine Chihuri to officially request that riot police officers are given badge numbers identifying them. Following the violence, Chihuri released an official statement in which she urged police to avoid agitating the people, and warned officers risked being targeted by members of the public.
Alex Magaisa, a lawyer and former adviser to ex-prime minister Tsvangirai, welcomed the move, claiming "it is important to put pressure and make these demands" but admitted knowing that "the reason why they don't wear these badges is to avoid being identified".
He explained: "It's part of the state's instruments of promoting impunity because they tell these people: 'You won't be identified, go out there and beat up people'. I don't see them conceding and agreeing to do things that would cause thugs to be identified – it is a stubborn regime."
This week, the Zimbabwean government branded #ThisFlag and #Tajamuka activists as "cyber terrorists" for largely organising and mobilising the anti-government protests via social media.