Zimbabwe: Policeman in court for President Mugabe 'too old' comment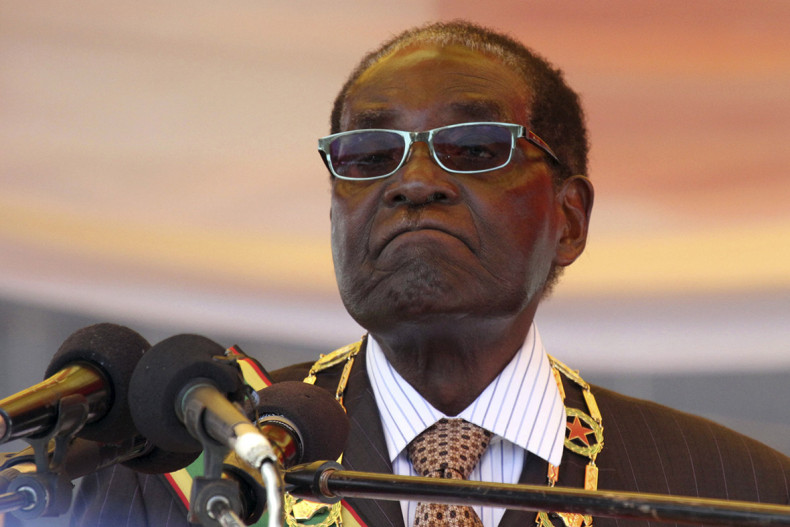 A police officer has landed himself in trouble for allegedly describing Zimbabwe's President Robert Mugabe as "too old to rule" and saying he married "a prostitute". Mugabe, who celebrated his 92nd birthday in February, has quashed any debate about his succession after he claimed he was still in charge, will go on until his term ends in 2018 and that he will rule until he is 100. Criticism of the leader is considered to be a 'criminal offence' in Zimbabwe.
Thompson Joseph Mloyi, who is 44, was arraigned before provincial magistrate Elijah Makomo on charges of undermining the authority of or insulting the Office of the President and calling the First Lady Grace Mugabe a prostitute, after he allegedly made the comments at Cranborne Barracks before officers of the Police Reaction Group based at the camp on 5 March.
"At around 6am, the accused person (Mloyi) entered the barrack while other officers were preparing to go to work and without being provoked, the accused started shouting, indicating that President Robert Mugabe is too old to rule and he married a prostitute, Grace Mugabe," local media reported. "When he was confronted by other officers, he got out of the barrack and went away."
Mloyi: Right to 'freedom of expression'
When he appeared in court on Tuesday 15 March, the officer said he had the right to express himself without being prosecuted. "Section 51 of the Zimbabwean Constitution deals with freedom of expression," he told the court, adding "It is under this protection that people communicate ideas. These ideas can legitimately include criticism of the president and his decisions." Mloyi applied for referral of his case to the Constitutional Court, according to local media and was released on $100 bail pending trial.
Under fire for commenting on Mugabe's age
The case comes a week after Zimbabwe's former vice-president Joice Mujuru, who launched her new party, Zimbabwe People First (ZPF) in early March to challenge Mugabe's 35-year rule, came under fire from the ruling Zanu-PF party for commenting on Mugabe's age.
In an interview published by Deutschen Welle on 4 March, Mujuru said that at Mugabe's age, he should not be even allowed to look "after goats" or make "any serious family decisions". "In my culture, you don't raise a finger to a man or a woman who is your mother or your grandfather's age. It is spiritual, he is now a living spirit and we are lucky to have him alive."
Members of the opposition have claimed to have been beaten and detained – others alleged they have been abducted by the Zimbabwean state. Recently, Mugabe showed his uncompromising side by threatening to punch a journalist "to the floor" after he was asked about his retirement plans and potential successor.
"Why 'successor' when I am still there?" he asked on state TV, before adding, "Why do you want a successor? Do you want me to punch you to the floor to realise I am still there?" clenching his fist aggressively.