Zimbabwe's war veterans have praised the army for carrying out "a bloodless correction of gross abuse of power."
The comments came hours after the army said President Robert Mugabe and his family were "safe and sound" following what appeared to be a bloodless transfer of power.
The southern African country has been experiencing rising tensions after Mugabe sacked vice-President Emmerson Mnangagwa, prompting condemnation by the country's military chief.
The military would return Zimbabwe to "genuine democracy" and make the country a "modern model nation," said Chris Mutsvangwa, chairman of the war veterans' association, told The Associated Press in Johannesburg. Mutsvangwa and the war veterans are staunch allies of Mnangagwa.
In a televised address on Wednesday morning (15 November), Military spokesperson, Major General SB Moyo denied a coup was ongoing. He added that the military was targeting "criminals around [Mugabe] who are committing crimes that are causing social and economic suffering in the country, in order to bring them to justice".
His speech was broadcast after the army seized the country's state broadcaster ZBC, hours after tanks were seen heading towards the capital Harare.
"We wish to assure the nation that his excellency, the president of Zimbabwe Robert Mugage and his family are safe and sound and their security is guaranteed," Moyo added.
"As soon as we have accomplished our mission, we expect that the situation will return to normalcy," he continued.
He urged other security forces to "cooperate for the good of our country," warning that "any provocation will be met with an appropriate response."
A Twitter handle supposedly affiliated with Zimbabwe's ruling party, Zanu-PF, has confirmed there has been a "bloodless transition" of power in the country. It denied claims there was a coup.
"Last night the first family was detained and are safe, both for the constitution and the sanity of the nation this was necessary. Neither Zimbabwe nor ZANU are owned by Mugabe and his wife. Today begins a fresh new era and comrade Mnangagwa will help us achieve a better Zimbabwe," said one tweet.
The account, which has not been verified, also appears to pledge allegiance to Mnangagwa who, according to IBTimes UK sources appears to be back in Zimbabwe. It is believed he travelled to South Africa after he was fired last week.
Opposition party Movement for Democratic Change (MDC) has called for a peaceful return to constitutional democracy following the army takeover, according to Reuters.
The MDC added it hoped the military intervention would lead to the "establishment of a stable, democratic and progressive nation state".
Another Twitter handle supposedly affiliated with the Zanu PF Youth league seems to fall in line with the military's action, suggesting that there might be no violence in the transition of power.
"Contrary to international reports, the gallant Zimbabwean Army has not staged a COUP. There is no COUP in Zimbabwe. Neither is there crisis. The army is simply effecting a National Democratic Project and it's doing so with peaceful aplomb," it said in a tweet.
South Africa's President Jacob Zuma called for calm in the neighbouring nation. The leader, on behalf of the Southern African Development Community (SADC) expressed concern at the ongoing situation, according to News 24.
Overnight, at least three explosions were heard in Harare, and military vehicles were seen in the streets.
The military actions appear to put the army in control of the country. Army commander Constantino Chiwenga had threatened on Monday to "step in" to calm political tensions. Mugabe's ruling ZANU-PF party responded by accusing the general of "treasonable conduct." But now Chiwenga appears to be in control.
The US Embassy closed to the public on Wednesday and encouraged citizens to shelter in place, citing "the ongoing political uncertainty through the night." The British Embassy issued a similar warning, citing "reports of unusual military activity."
For the first time, this southern African nation is seeing an open rift between the military and Mugabe, the world's oldest head of state who has ruled since independence from white minority rule in 1980. The military has been a key pillar of his power.
The UK Foreign Office urged British citizens in the country to remain indoor.
"Due to the uncertain political situation in Harare, including reports of unusual military activity, we recommend British nationals currently in Harare to remain safely at home or in their accommodation until the situation becomes clearer. Please continue to monitor our travel advice and embassy social media accounts for updates," read a statement.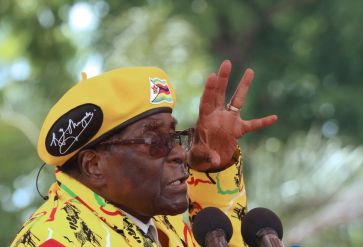 Security analyst David Otto tells IBTimes UK:
"With the army and other military wings seeming to collaborate and coordinate it seems there will be no resistance to this coup.
Mugabe is outwardly loved by many African leaders for his strong stance against Western imperialism, but he may have been abandoned by virtually everyone when he needed them most.
This is a rare 21st century glorious coup with no casualties. The main key critical infrastructures and top personnel that have to be secured and taken into custody for a coup to succeed have been secured.
The Mugabe era and dynasty has crumbled, the history of Zimbabwe would take a different direction, but other leaders in the region with similar concerns will be looking over their shoulders. This could create a ripple effect that we saw during the Arab spring. When the military takes over in the 21st century there would be temptation of copy cat attempts in other volatile states in East, South and perhaps Central Africa."