Zimbabwe's incoming leader remains under US sanctions for his activities as former President Robert Mugabe's deputy and enforcer.
Emmerson Mnangagwa, who will be sworn in on Friday (24 November), was sanctioned in response to what the US called acts "to undermine Zimbabwe's democratic processes or institutions" and "acts of violence and other human rights abuses against political opponents".
Mnangagwa was accused of leading a violent crackdown on opponents in the 2008 presidential election.
He has vowed to deliver a "new, unfolding democracy" in Zimbabwe after Mugabe's resignation under military and ruling party pressure.
The resignation came as tensions mounted in the country after Mugabe fired Mnangagwa earlier in November.
Mnangagwa's dismissal sparked political turmoil, starting with the army temporarily taking over the government to "target criminals" around Mugabe. The military, which insisted it did not carry out a coup, engaged in talks with the president in order to give him a "dignified exit".
Mugabe, who has been the leader of Zimbabwe since 1980, initially refused to stand down. In a televised speech on Sunday – in which people expected him to formally resign – he vowed to preside over next month's Zanu-PF congress.
The military reported "no violation of constitutional processes" in an update on its operation.
Its new statement also praised Zimbabweans for behaving well in their demonstrations calling for Mugabe's departure and welcoming incoming leader Mnangagwa.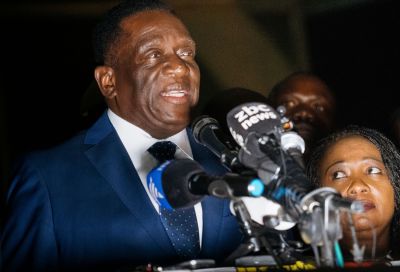 Sources told Reuters that Mugabe – often criticised for clinging on to power and his government's poor record of human rights – was granted immunity after the 93-year-old leader said he wanted to die in Zimbabwe.
"It was very emotional for him and he was forceful about it," said the source, who is not authorised to speak on the details of the negotiated settlement.
"For him it was very important that he be guaranteed security to stay in the country... although that will not stop him from travelling abroad when he wants to or has to," the source added.
The source further explained that Mugabe will receive a retirement package including a pension, housing, holiday and transport allowance, health insurance, limited air travel and security.