Zombie YouTube channel sues Google after losing ads over 'anti-extremist' policy
YouTube channel ZombieGoBoom says it has lost up to 95% of its revenue from Google's screening algorithm.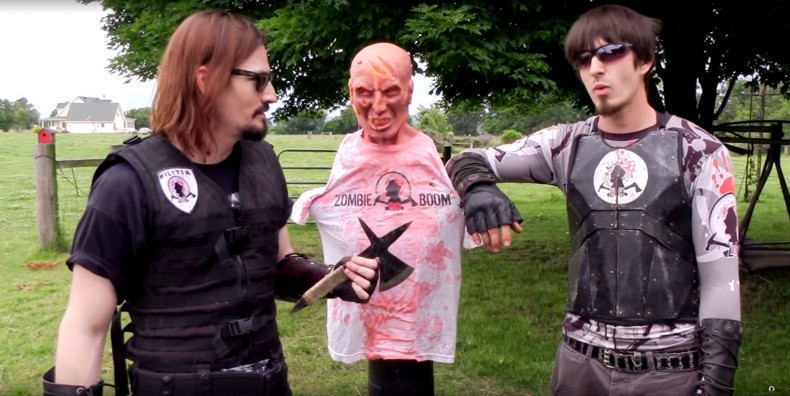 YouTube has been hit by a lawsuit from content creators who claim that they have lost most of their revenue since Google instituted a new algorithm to help screen and censor videos displaying extremist content.
The lawsuit is being led by ZombieGoBoom, a YouTube channel that makes reality video episodes themed as a cross between educational TV programme Mythbusters and the popular sci-fi fantasy TV series The Walking Dead.
In each video, channel owners James Sweet and Chuck Mere test out a range of weapons including axes, guns, saws and household objects, to see whether a "scientifically accurate zombie model" would be defeated in the event of a zombie apocalypse. The channel currently has 1.6 million subscribers and its videos have been viewed up to 7 million times.
Arkansas-based Sweet and Mere state in the lawsuit that they previously made between $10,000-$15,000 (£7,680-£11,520) a month as their channel receives between 6-10 million views a month, which is "roughly equivalent to the number of views that a popular television show on cable would receive", according to Silicon Beat.
An algorithm implemented by Google, which erroneously tags the zombie content as extremist, has caused ZombieGoBoom's revenue to dramatically decrease by about 90-95%. The pair hope to turn this into a class action lawsuit, as they know of many other YouTube creators that have been similarly affected.
Struggling to retain advertisers
In March, multiple major US and UK brands decided to suspend ads from YouTube, including Marks and Spencer, Vodafone, Argos, Lloyds, Royal Bank of Scotland, Verizon, AT&T and Johnson & Johnson.
The brands were greatly concerned that their adverts were being placed alongside extremist video content promoting anti-Semitism and terrorism, and Google was accused of not doing enough to police YouTube and keep hate preachers off the video sharing network.
In response, Google began implementing new controls to help restore advertiser confidence, including taking a tougher stance on hateful content, incendiary and demeaning content, and content that seeks to portray family entertainment characters in an inappropriate way.
One of the ways the internet giant sought to do this was to implement a new algorithm that allowed computers to automatically screen content to decide if it was extremist in nature, in the hopes that the advertisers would restore their contracts, which would in turn restore revenue to YouTube creators.
YouTube creators badly affected
Unfortunately, while the new measures did restore advertiser confidence, some YouTube channels have been hit hard by the algorithm, which is apparently erroneously tagging video content as extremist, when it isn't.
The ZombieGoBoom lawsuit also states that prior to Google's changes, there was someone interested in purchasing their channel for $60,000. This offer has since been rescinded due to the content no longer being monetised.
Sweet and Mere say that YouTube repeatedly ignored requests to review their channel, and as such, Google and YouTube are being accused of unfair, fraudulent and anti-competitive business practices.
The men also seek for their lawsuit to become a class action covering all YouTube creators who have uploaded content since 2006, and whose videos were available to be viewed on YouTube between 1 March and the date of the lawsuit.
IBTimes UK has contacted YouTube to ask for its response to the lawsuit.