More than 100 hate videos posted by an Isis supporter, who was also an associate of London Bridge attacker Khuram Butt, are still available on YouTube, Sky News reported. Those videos have long been banned and blocked on other social media platforms.
Abu Haleema, a self-styled Islamic preacher who was seen laughing at videos of Isis executions in the Channel 4 documentary on Isis that also featured Butt, has posted nearly 115 videos on YouTube.
In one video, the Isis supporter is seen calling for gay men to be executed, while in another he is seen predicting that the black flag of sharia will soon fly over Windsor Castle – the royal residence in Berkshire, UK.
In another YouTube video, Haleema asks: "You really think Allah will leave the Muslims in humiliation?
"If you really think that then wait, and we'll see who Allah gives the victory to," he replies as sounds of gunshots are heard in the background.
In yet another video posted by him, he is heard quoting a line from the Muslim holy book of Quran addressed to non-believers: "Seize him and shackle him, then throw him in the fire, that's going to be the death of him."
It has emerged from investigation into the London Bridge and Borough Market attacks on 3 June that Butt was radicalised by watching similar hate videos by another infamous hate preacher Ahmad Musa Jibril. Butt along with two other men – Rachid Redouane and Youssef Zaghba – killed seven people by driving their vehicle into pedestrians on the bridge and stabbing people in the busy market area.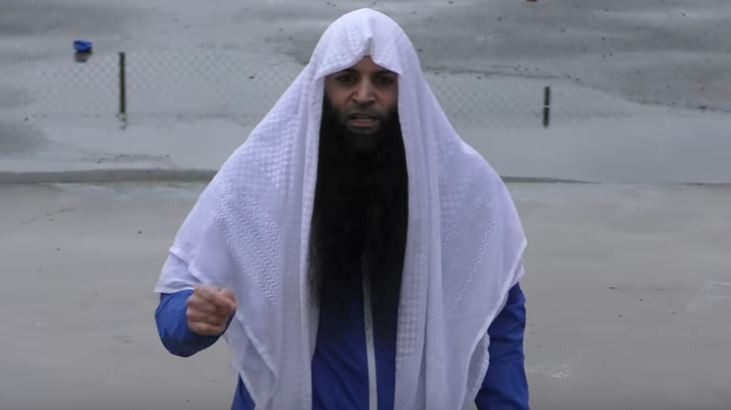 Zaghba's mother also blamed the internet and Isis hate videos for radicalising her son and luring him to join the Islamist extremist group in Syria.
Meanwhile, Google, which owns YouTube, has reportedly told the news channel that they have pledged to not allow terrorists to use their platform to spread extremism.
"We want to make sure that terrorists do not have a voice and cannot spread extremist material on our services, the Google statement on behalf of Google vice president Peter Barron stated.
"We are working urgently to improve and accelerate our ability to remove content which violates our policies and the law.
"These are complicated and challenging problems, but we know we can do better and we are committed to working with the government to ensure that we are part of a lasting solution."