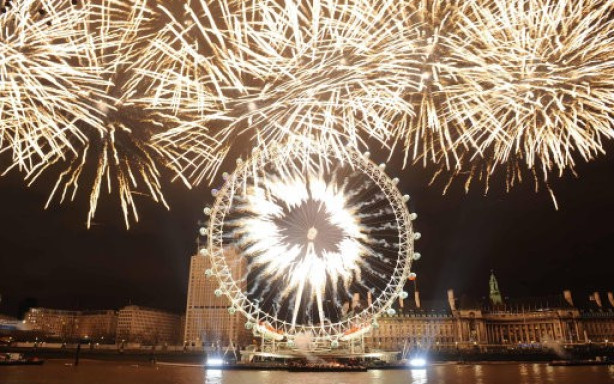 Plans are in place to charge New Year's revellers £10 to watch the end of year fireworks display in London.
100,000 tickets will be made available to the public for the spectacular annual display, which had until now, been entirely free.
Mayor Boris Johnson insists the charges will "create a better experience" for revellers.
"London's New Year's Eve fireworks are phenomenally popular, not just in the capital, but across the world and we want to ensure it continues to be a safe, enjoyable and sustainable event for the long-term," Mr Johnson said.
The display was first staged at the London Eye in 2003 and attendance grew from 100,000, to an estimated 500,000 last year.
The viewing areas are located on Westminster Bridge, on the north embankment of the Thames between Westminster and Waterloo bridges and on the Southbank behind the London Eye. For the first time people will be denied entry to those areas unless they have a ticket.
Johnson claims the initiative is designed to combat the overcrowding that results, as half a million people converge along the Thames to watch the display.
"After consulting with our partners, we are introducing ticketing to help manage crowd numbers and create a better experience on the night," he explained.
"For anyone without a ticket the fireworks are again being shown live and in full on television."
The London Mayor's office added that ticket sales would not make any profit, with the money taken covering the cost of ticketing.
The decision has already sparked criticism.
Caroline Pidgeon, Leader of the Liberal Democrat London Assembly Group, said the fireworks "should be accessible to all" and warned of "the potential for serious crowd management issues outside the 'pay' zone".
"It would be a scandal if any families were denied access to the event due to the introduction of ticket prices," she added.
On Twitter, members of the public have expressed their outrage at the move. Martin Pearce wrote: "London New Year Fireworks to be tickets only and cost £10 now :( sad day, do any other place in the world charge to see in the New Year??"
Labour's Tottenham MP, David Lammy, said: "Always loved that London NYE fireworks were a free & festive gathering open to all, not a sterile ticketed show. Not any more. #thanksboris."
People wishing to attend this year's event will be able to book up to four tickets from 26 September at 12 noon at www.london.gov.uk/nye.