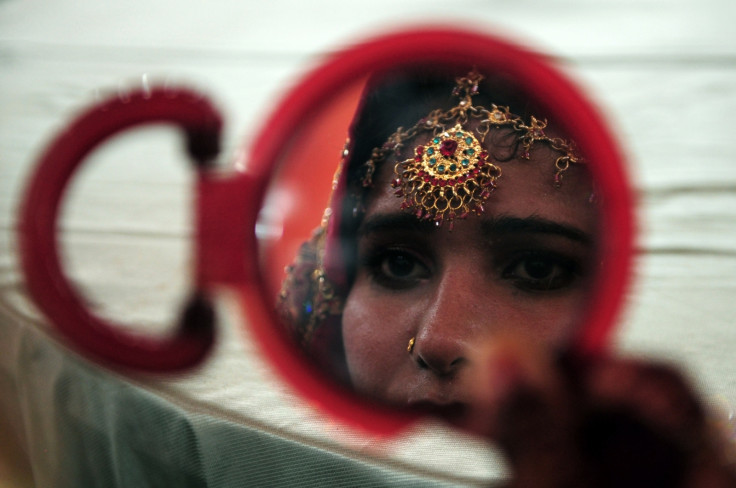 Police raided the ceremony of a ten-year-old girl in Pakistan who was about to be married to a 50-year-old man to settle family debts.
Officers rushed into a marriage broker's house in Khipro village, in the south of the country, just before the contract was signed.
Middle-aged Jeetmal Mehar had offered £5,400 to Pathani Mangrio's parents to marry their young unnamed daughter. This would have settled the £3,400 loan they have struggled to pay, which led to loan sharks threatening to seize their home.
Police said they arrested 11 people involved in the deal, including the child's mum, at the marriage broker's house, but the groom managed to flee and is on the run.
Gulzar Mari, a policeman investigating the case, said: "On December 19, around 11am we received information that a minor girl was being married to a 50-year-old man.
"We took immediate action and raided the house of Muhammad Mehar. He was the broker in this marriage and had taken £340 from the groom and £170 from bride's family."
The bride's mother Masmat said she agreed to marry her daughter off to save the family home and to pay for the treatment of her sick husband.
She said: 'My husband was ill and for his treatment we had taken loan from some influential people.
"My husband is unable to stand on his feet and can't walk that is why he was not present at the Nikah [marriage] ceremony of our daughter.
We had no choice
"Due to financial constraints we couldn't pay back the loan. The people we had taken money from were pressuring us that they will recover their loan amount by selling our house.
"Muhammad Mehar contacted us through some sources and offered £5,400 if we will marry our daughter to Jeetmal Mehar.
"Neither I nor my husband wanted to do this injustice to our daughter but we had no choice. The groom also said he will not demand any dowry and he will bear all the expenses of marriage."
The man who was about to perform the marriage, Qazi Haji Solangi, said: "I was approached by Muhammad Mehar for reciting Nikah. I didn't know the girl is only 10 years old as I didn't ask for age of bride and groom. I just asked the names of the bride, groom and their parents' name and recited Nikah."
Sindh province police said all of those arrested will remain in custody until they appear in court next Wednesday (27 December). The child bride will stay with her with her maternal grandfather until case is complete.
In Pakistan child marriage is an offence that carries a minimum sentence of two years in jail.
Three per cent of girls in Pakistan are married before they turn 15 and 21% of teens age wed before they hit 18, estimates UNICEF. The world body blames poverty, low rural levels of education and cultural practices for the high instance of child marriage.