100 Days of Sisi: Egypt Economic Recovery Kicks Off but Human Rights Trampled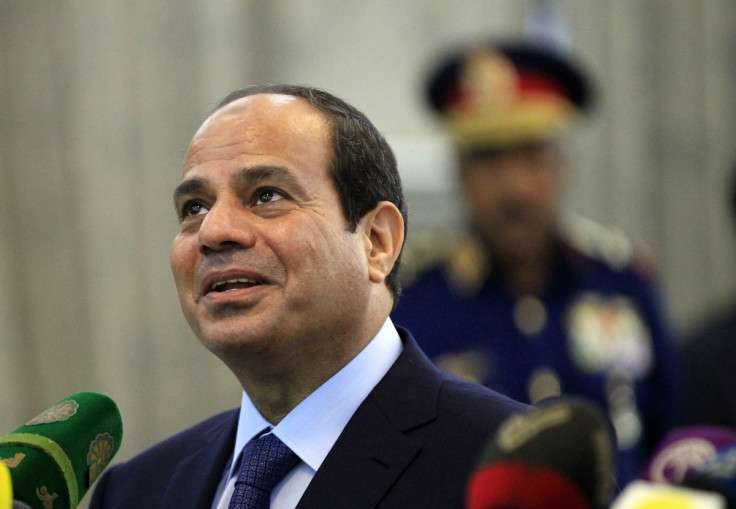 When Abdel Fattah al-Sisi cruised to a landslide victory in Egypt's presidential election in June, he became the country's third president in almost as many years.
The Arab world's most populous nation had undergone a period political tumult, marked by economic decline, social unrest and a flirtation with popular democracy that effectively ended with Sisi's ascent.
The former head of the armed forces promised to restore stability along with economic reform and prosperity.
Yet progress on the economic front has coincided with a crackdown on political freedoms, as draconian measures against dissent have been pursued by the government.
Energy Reforms
With long and arduous power blackouts a key factor in the loss of public support for former president Mohamed Morsi, Egypt's new leader acted quickly to reform the country's energy sector.
Costly subsidies were partially removed in July when the government announced a raft of price hikes. Capital Economics estimated this measure would trim the country's budget deficit by 2.5% of gross domestic product.
Meanwhile, the current government has pushed through a range of reforms to boost Egypt's appeal to foreign companies. Previous governments had broken export agreements with foreign energy firms, leading to a slowdown in investment.
Yet, the current government has started repaying its debts to foreign firms, while negotiating new deals relating to gas exploration in the country.
Infrastructure Mega Projects
Sisi has overseen the launch of ambitious public sector mega-projects, causing some analysts to draw a comparison with another military leader from the country's past, Gamal Abdel Nasser.
However, the government had been left with little choice, given the subdued nature of the Egyptian economy since the 2011 revolution. With factories shutting down across the country, it's more likely Sisi is backing these projects in a bid to spark a movement that will later be led by the private sector.
"In the near term, the government is having to step in," said Jason Tuvey, Middle East economist at Capital Economics. "Given its fiscal position, it's unclear how long the government will be able to do that for. At some point, there will need to be the private sector driving things again."
Gulf boost
The financial support from the Gulf has helped alleviate some of the external financing concerns Egypt faced.
The United Arab Emirates, Saudi Arabia and Kuwait have provided $12bn (£7.4bn, €9.3bn) between them, since Morsi was overthrown in July 2013.
The same powers have backed an international donor conference set for February 2015, as the allies seek to rally broad support for Sisi's regime.
The Gulf cash provided much-needed liquidity to the Egyptian economy and has given the government some space to shape its economic policy.
"It's allowed the authorities to ease the restrictions on access to foreign currency. In turn, imports of intermediate products have started to pick up. This is one of the reasons the manufacturing sector seems to be doing a bit better," Tuvey told IBTimes UK.
Tourism Sector Slides
"There are still areas where activity has remained relatively weak, particularly tourism," Tuvey said.
Tourist arrivals in 2014 are much lower than they were a year ago and significantly lower than the years running up to the 2011 revolution that saw Hosni Mubarak ousted as president.
The sector had provided $12.5bn a year at its peak but 2013 saw less than half that amount coming in. While 14.7 million tourists visited in 2010, that number had shrunk to 9.5 million in 2013.
The first six months of 2014 were even worse, with $3bn coming in. The figure is 25% down on the same period in 2013.
The industry has been a vital source of foreign currency for the government but from the iconic pyramids at Giza to the diving hot spots on the Red Sea, foreign tourists have been notably absent.
"Egypt might have actually lost some market share to the likes of Morocco and Greece. In particular, Morocco now has more tourists going there than are going to Egypt, which hasn't been the case since records began," said Tuvey. "Tourists will return to Egypt but it's going to be a slow recovery."
Human Rights Smothered
"When Sisi took office the country was in crisis from a human rights point of view," said Joe Stork, Human Rights Watch's deputy director for the Middle East and North Africa division. Since he took office, "we've had the convictions of the Al Jazeera journalists and those were not one-offs," Stork told IBTimes UK.
Three reporters from the network were handed lengthy jail terms in June after a five-month trial was denounced as a "sham" by human rights groups. Peter Greste and Mohamed Fahmy both received seven-year prison sentences, while Baher Mohamed was sentenced to 10 years, on charges of aiding the Muslim Brotherhood by providing it a media platform.
"Just a couple of days ago a group of young people was arrested because they were doing a rap number that was 'insulting to the army'. It continues to be a highly repressive environment in terms of human rights," said Stork.
The state's security services have targeted supporters of former Islamist president Morsi, who was ousted by the army in July 2013.
"Anybody who's seen to be supporting the Muslim Brotherhood are primary targets. Egyptian human rights activists and defenders are very worried about what the future holds for them," Stork told IBTimes UK.
"There's a new draft law on governing associations and how NGOs would be governed, monitored, basically brought under government control. It's a very regressive law, considerably worse than the already-bad law that's on the books."
Two directors from Human Rights Watch itself were banned from entering the country in August, where they had sought present a report on the Rabaa massacre that occurred in the days after the 2013 coup.
In the report, HRW said at least 1,150 protesters had been killed when the police and the army "methodically opened fire with live ammunition" in a number of incidents after Morsi was ousted as president.
© Copyright IBTimes 2023. All rights reserved.