1,000-Year-Old Ancient Liao Dynasty Chinese Tomb Discovered With Stunning Murals [PHOTOS]
The 1,000-year-old tomb of a rich nobleman from the Liao Dynasty has been discovered in Datong City, Shanxi Province in northern China, featuring beautiful murals, ceilings covered in constellations of stars and a statue of the tomb's occupant.
The tomb, known as M1, was discovered by archaeologists from the Datong Municipal Institute of Archaeology in April 2011, buried 1.5m below ground level near the Datong-Taiyuan Railway line.
It is circular in shape and made from brick, consisting of three components – an entrance corridor, a passageway with stairs and a burial chamber.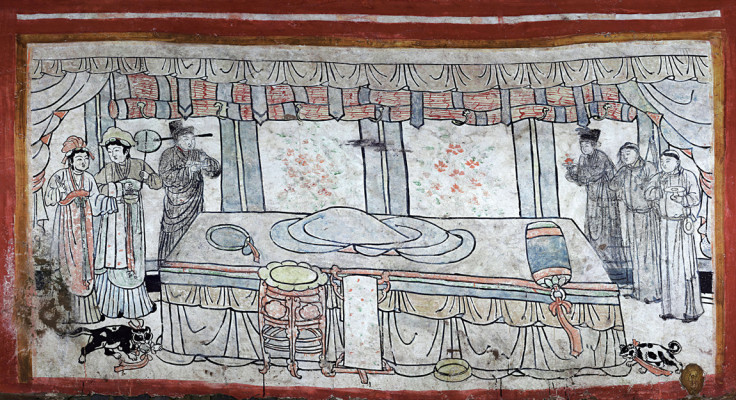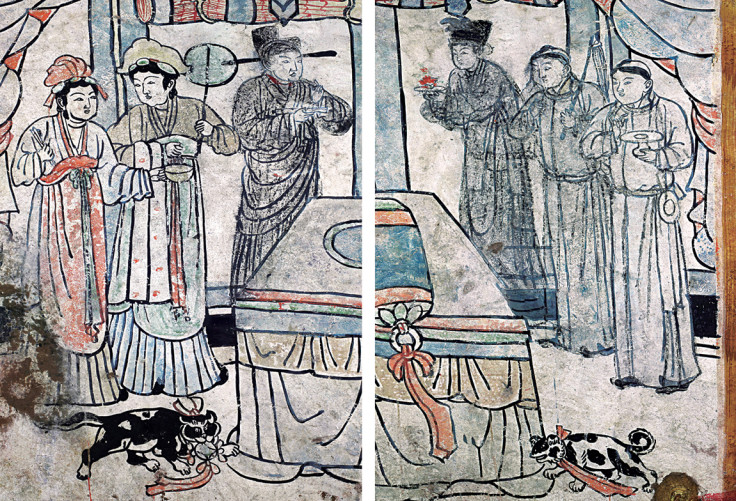 The walls of the tomb chamber are lime plaster covered with several large murals depicting the daily domestic life of a noble during the Liao Dynasty (also known as the Khitan Empire), which lasted from 907-1125 AD.
The Khitan people (known in Mandarin as "Qìdān") were normadic people from Mongolia and Manchuria who dominated parts of China during the Liao Dynasty and ruled over the Han Chinese. Very few relics of their reign have survived till today.
The largest mural is that of a bedroom scene, which shows a large bed in the centre of a room and a six-panelled folding panel behind it, just under blue and red curtains.
The room is attended by six male and female attendants in traditional dress bearing a variety of tools to provide their master with comfort, while a cat and a dog frolic at the foot of the bed.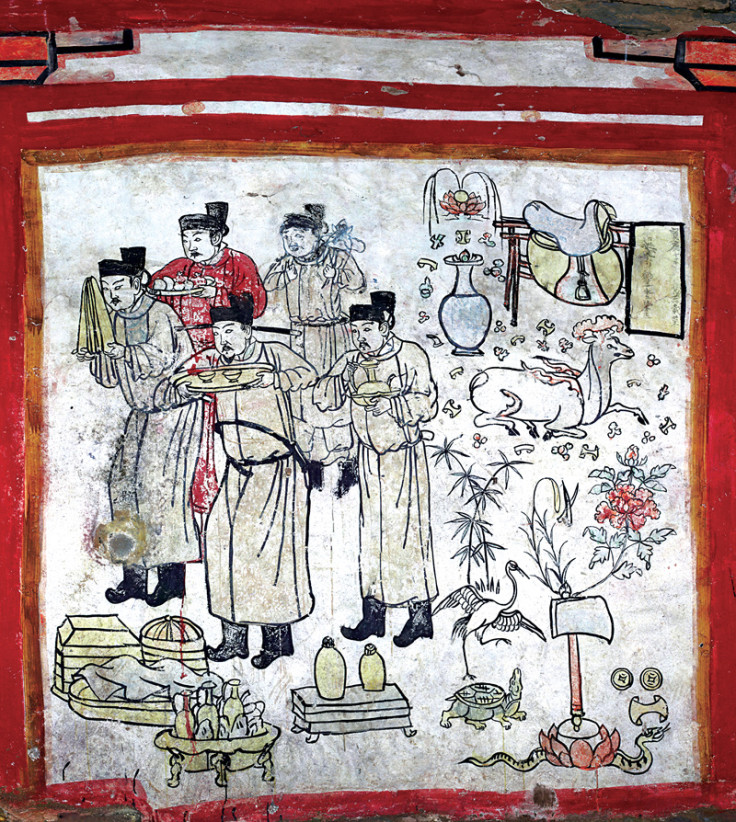 Another mural depicts five middle-aged male attendants holding serving utensils, with containers and trays of fruit and wine at their feet.
Next to them, auspicious items are depicted, including a deer, a crane with a red crown, a crawling yellow turtle, flowering peonies, and an axe standing on an orange lotus flower-shaped base, carried by a green snake.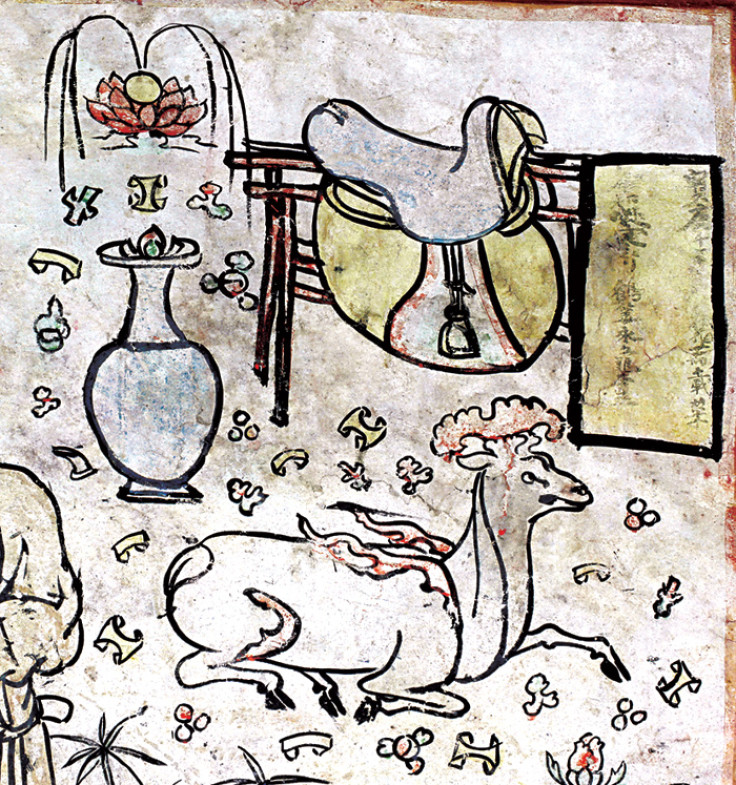 In the top right-hand corner of the mural is a saddle, and next to that is an unrolled scroll bearing the text of a poem.
Although some of the characters have faded over time, part of it is still legible and reads: "Time tells that bamboo can endure cold weather. Live as long as the spirits of the crane and turtle."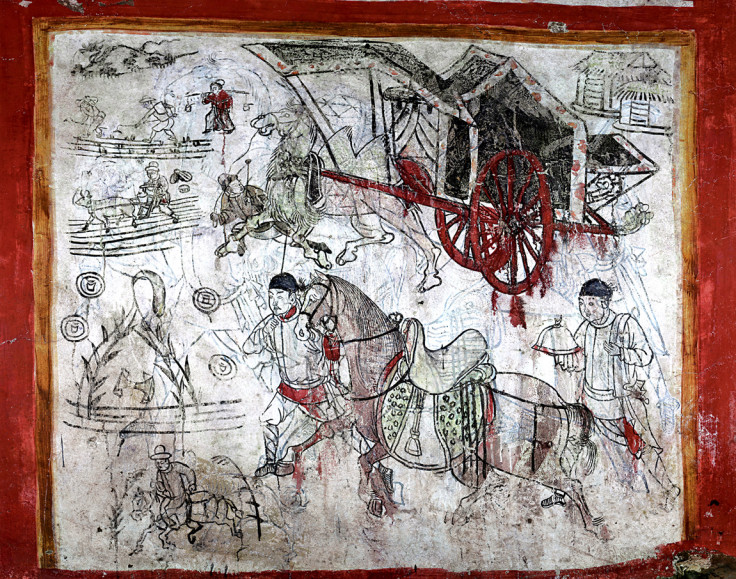 There is also a mural depicting farming, with people, cattle, farming implements and a carriage, against a background of mountains and plants. Unfinished sketches are visible beneath the paintings.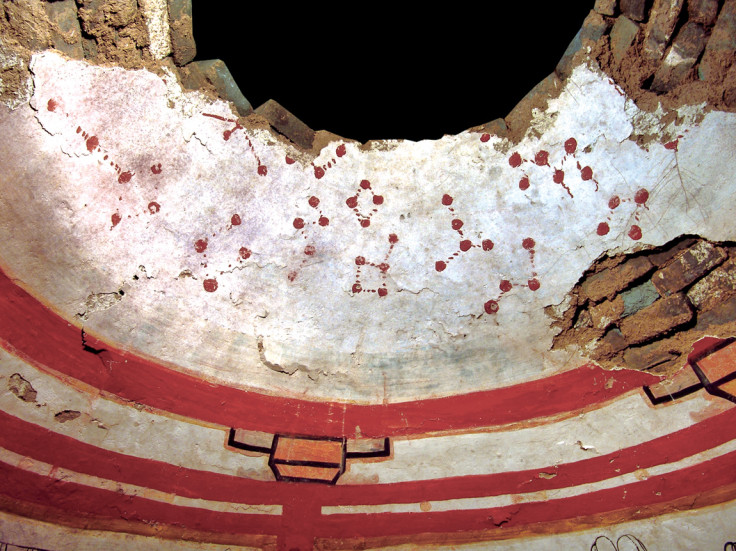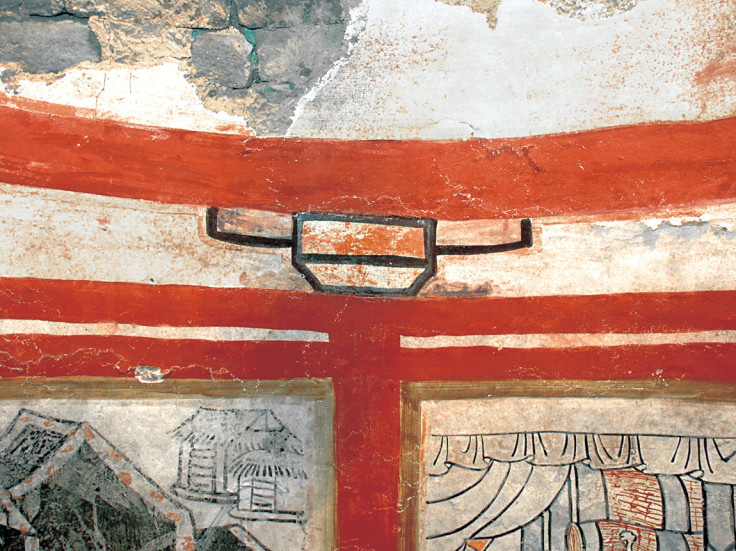 The ceiling of the tomb is curved and covered with stars and completed constellations painted in red.
In between the murals, the tomb's creators have painted columns, architraves, friezes and brackets to look as if they are holding the ceiling up.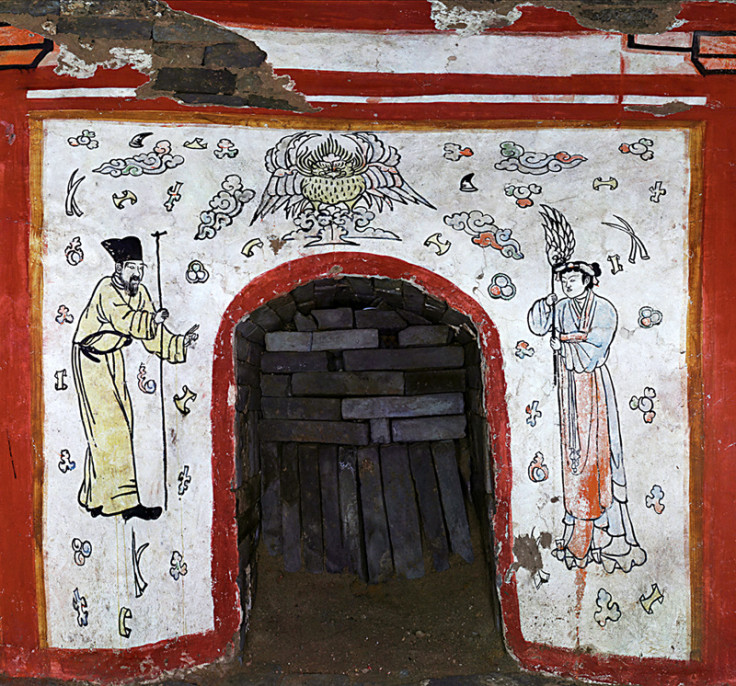 The entrance of the burial chamber features a mural depicting an old man and a maiden who are most likely gods as they are surrounded by flames, precious pearls, rhinoceros horns, ivory and silver ingots, on either side of the entrance.
Over the entrance is painted a garuda, a large mythical bird from Buddhist mythology on some "auspicious clouds", according to the archaeologists.
When the archaeologists opened the tomb, they found that the raised brick coffin platform had been destroyed and grave goods were scattered randomly in the burial chamber, showing that the tomb had previously been robbed.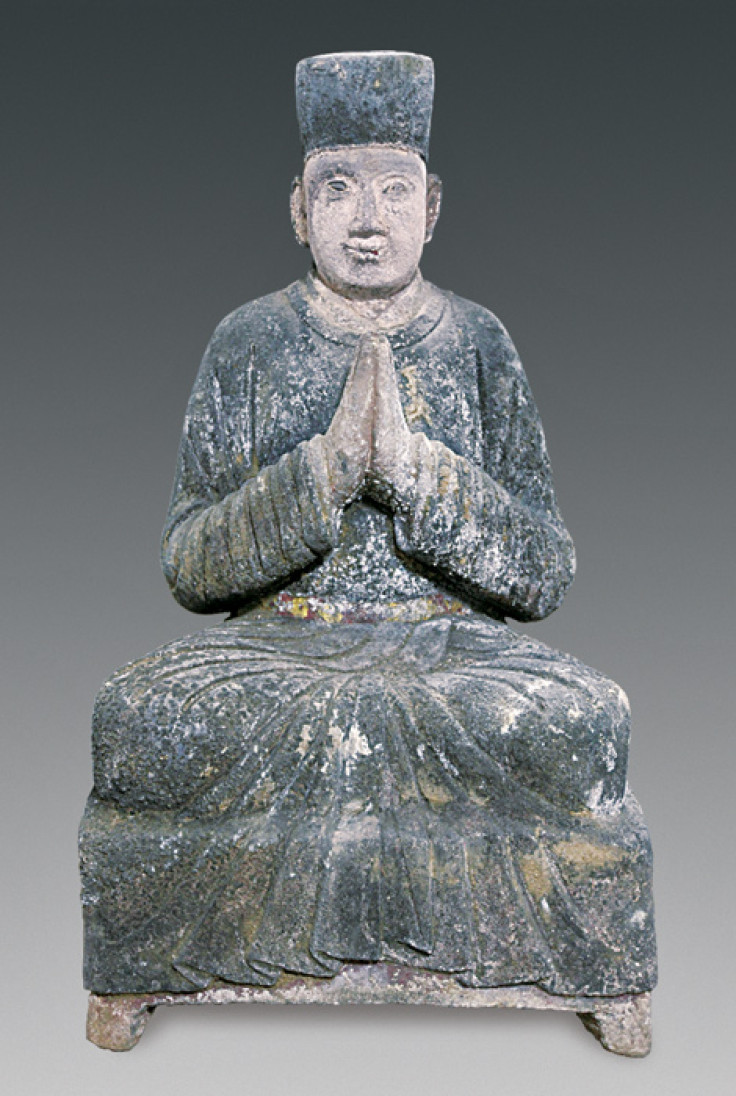 There were also no signs of any human remains in the tomb or depictions of the tomb's occupant on any of the walls.
However research shows that the people of the late Liao Dynasty were Buddhist, so it was not unusual for tombs of the period to contain no human remains, but instead have a small carved effigy of the tomb's occupant. This particular statue is made from grey sandstone.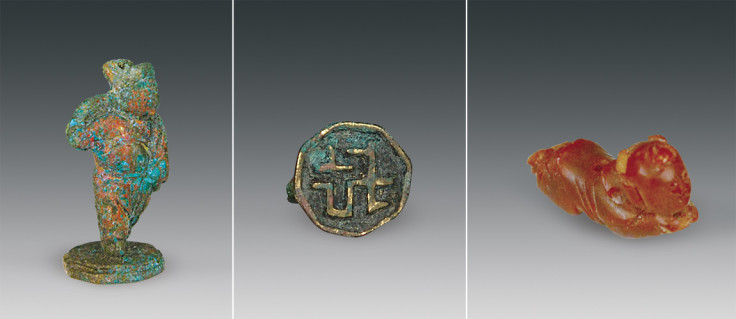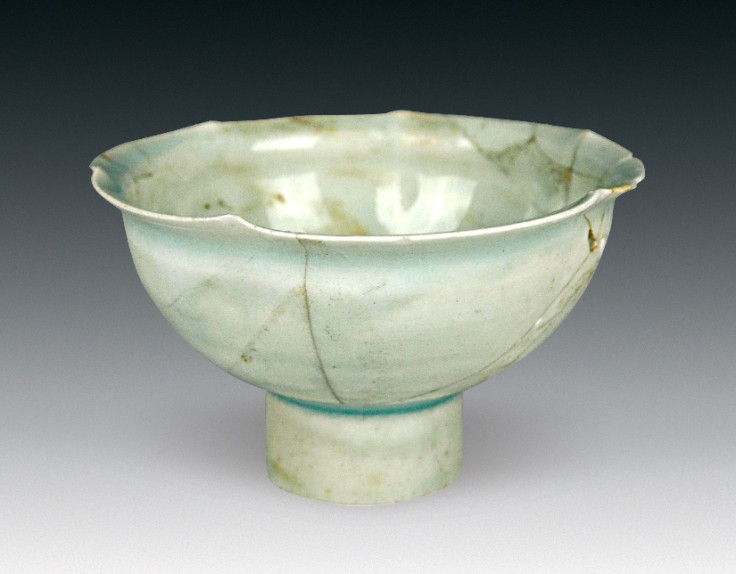 Most of the grave goods were stolen, but there remain a few pottery bowls, personal grooming items like bronze tweezers, as well as a figurine of a boy made from amber, a gilt bronze seal in the shape of a figurine, and another gilt bronze seal signet ring.
The study on the Datung tomb is published in Chinese Cultural Relics, the official English translation of the award-winning Chinese archaeology journal Wenwu (which means Cultural Relics in Mandarin).
Published since the 1950s, Wenwu is well known in China and abroad for its quality articles and in-depth reporting of Chinese archaeological surveys and fieldwork. Chinese Cultural Relics is published quarterly, with subscriptions are available through East View Press and other subscription agents.
© Copyright IBTimes 2023. All rights reserved.