Chelsea manager Rafa Benitez expects The Blues to spend as much as £100m in the summer transfer window after winning the Europa League in Amsterdam against Benfica.
Branislav Ivanovic's stoppage time header delivered Chelsea's 11th major trophy in the nine seasons of Roman Abramovich's ownership of the club.
But according to Benitez, who is expected to be replaced by Jose Mourinho this summer after being appointed interim first team coach in November, says the club won't let up in continuing their reign as English football's most successful club of the last decade.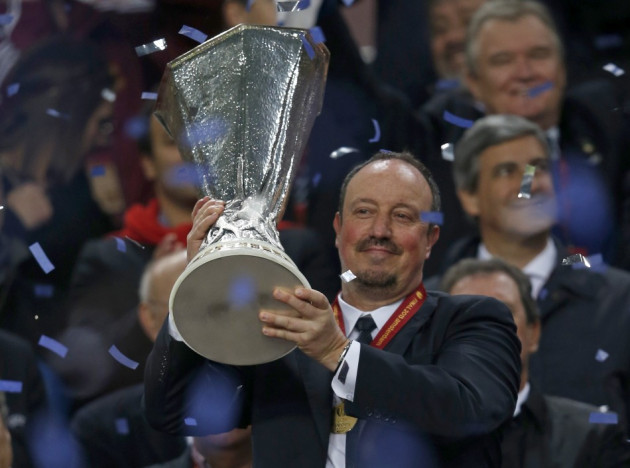 "What I am sure about is that next season Chelsea will be much better because they will spend £100m and they will sign three or four players," Benitez said.
"The foundation is already there. The future is bright for them.
"I don't know who the next coach will be, I am not the one who should say (who it will be) even though everyone speculates the same person."
After being appointed as interim boss following the sacking of Roberto di Matteo, Benitez has been forced to battle against constant protests from Chelsea supporters, while the Spaniard claimed his temporary job title was undermining his authority among the players.
But after winning Chelsea's second successive European trophy and assuring Champions League qualification for next season, Benitez hopes that the Stamford Bridge support will learn to appreciate the job he's done.
"There are those who shout the loudest and who you hear the most but there are also a lot of people (who support me).
"I have a web page where I am constantly receiving messages and where Chelsea supporters are saying we support you and we appreciate what you are doing.
"The Chelsea fans who able to analyze the situation properly see that. But if there is someone who does not want to accept you then all you can do is go on reaching your objectives."
After winning a seventh major trophy in 12 years, Benitez leaves Chelsea this summer looking to remain in management, and the ex-Liverpool boss has left the door open to a possible move to Paris Saint Germain, whose current boss Carlo Ancelotti is wanted by Real Madrid.
"You never know," Benitez said.