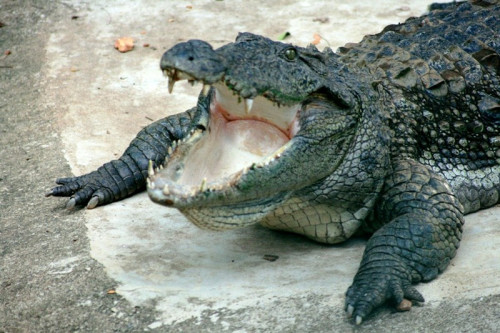 Police in Australia are searching for a missing 12-year-old boy who is thought to have been grabbed by a crocodile while swimming with a friend at a popular tourist spot in northern Australia on Sunday.
The boys were swimming in Mudginberri Billabong in World Heritage-listed Kakadu National Park, in the southeast of the Northern Territory capital of Darwin, when it is thought the crocodile pounced and snatched the boy.
Acting Police Commander Michael White told Associated Press: "One other boy, also aged 12, was bitten on the arm by the crocodile and has received medical treatment."
Police and park rangers are searching for the boy by land and boat, he added.
Crocodile numbers have risen since a federal law protecting them was introduced in northern Australia in 1971. The crocodile population is thought to be highest in the Northern Territory, where Kakadu National Park is located. The park is promoted as a major tourist attraction.
The majority of recorded attacks have occurred in Australia or Southeast Asia. In August police recovered the body of a 26-year-old swimmer and the crocodile that killed him in an Australian Outback river.
The body of Sean Cole was recovered from crocodile-infested waters of the Mary River Wilderness Retreat. The 26-year-old was part of a group on a 30th birthday camping trip when he and a friend decided to swim across a river with one of the highest numbers of saltwater crocodiles in the world. Cole's friend survived the attack.
A few weeks later, a kayaker from New Zealand was stalked for two weeks on a remote Australian island by a giant saltwater crocodile.
Six of the 23 crocodile species are considered dangerous to adult humans. The Nile crocodile and saltwater crocodile are the two species with the best documented reputation for attacking humans.