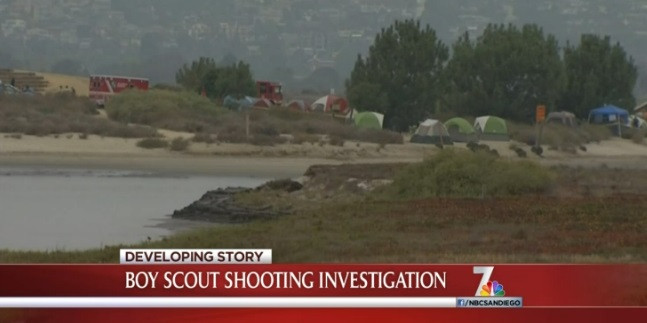 Police are investigating after a 12-year-old shot himself in the head at a scout camp in San Diego.
Detectives are investigating whether it was self-inflicted or accidental after they found a body inside a tent with a handgun nearby.
The shooting happened at the Fiesta Island Youth Camp and Youth Aquatic Center in Mission Bay on Monday - a day after the boy arrived with 20 other scouts from Las Vegas.
Paramedics tried to revive him but he was pronounced dead at the scene.
The father was said to be at the camp at the time of the shooting. He was interviewed by police, along with the scoutmaster and the rest of the troops, according to Fox 5 news.
Investigators would not comment on whether anyone else was in the tent at time of the shooting but they said there were no witnesses.
Officials say they will not be able to determine whether the shooting was a suicide until an autopsy has established the bullet's trajectory.
Boy Scouts of America said it was an "extremely sad day".
Spokesman Deron Smith said counsellors were at the camp, and added that the organisation does not allow firearms at its events.
According to NBC 7 news, parents have not been told to come and pick up their kids, and camp will continue as usual.