14 French far-right protesters arrested at anti-migrant rally in Calais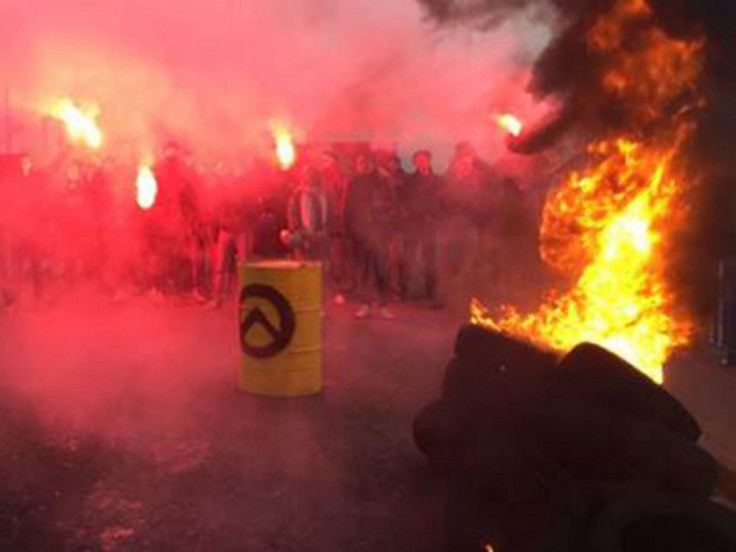 French police have made multiple arrests after a small group of right-wing protesters attempted to block bridges in Calais, one the epicentres of Europe's burgeoning migrant crisis. Fourteen members of Génération Identitaire, a far-right anti-immigrant group, were detained after attempting to block migrants from gaining access to the city in northern France.
The protest was unlawful as authorities had had no prior warning that it would take place. It was broken up by riot police almost as soon as it started, after around 80 protesters set fire to tyres and let off tear gas.
The group itself claimed that 130 activists were present, brandishing banners reading "Go Home", "Defend Calais" and "No Way". They claimed to have blocked three bridges into the city, but things were returned to normal by police shortly after 9am.
On Facebook, the group wrote: "For months, Calais has been a symbol… of the real invasion confronting our continent", claiming that the city had recently seen "attacks against police, against motorists and truck drivers, city riots, the total disintegration of social life and the economy".
The arrests come a day after a fire ripped through the refugee camp near Calais, destroying shelters, restaurants and a makeshift mosque. The cause of the fire, which started on Friday afternoon, is still unknown, but it is believed to have been started by camp residents, hoping to prevent demolition crews from entering. The blaze was battled by firefighters protected by riot police.
Tensions are currently especially high at the camp, which houses thousands of desperate migrants fleeing war and instability in Africa and the Middle East, as the authorities press on with plans to bulldoze part of it.
Warning refugees
Also on Friday, Mayor of Saint-Quentin Xavier Bertrand, a former minister of labour, employment and health under François Fillon's government, told the Guardian that he wants to see British border guards on patrol in Calais telling refugees that Britain is tightening asylum rules.
"What we need now is UK border guards going through the camp at Calais every week telling the people that it is no longer the case that the UK is an El Dorado," he said.
Bertrand, who represents six million people as president of the Nord-Pas-de-Calais-Picardie region, said that Calais citizens were becoming "exasperated".
"It is not sustainable for the region. I do not want a drama, it's what I want to avoid, but it's possible someone will be killed unless we make progress," he said.
© Copyright IBTimes 2023. All rights reserved.