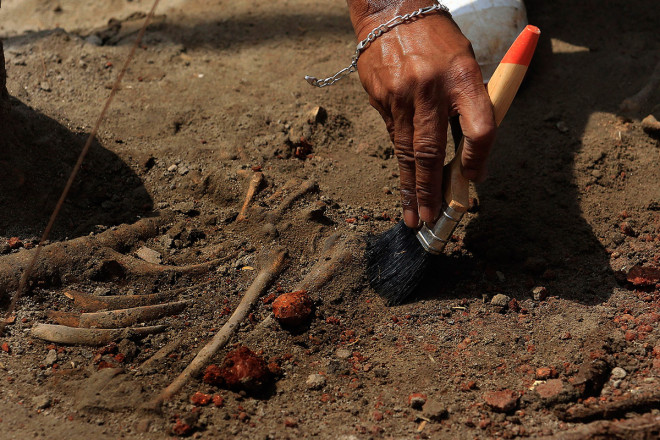 Bones reported to be 1,400 years old have been found under the driveway of a house in London.
Police investigating the remains at the house in Croydon said the bones dated back to between 670 and 775 AD.
Officers were called to the site on 14 April when workers discovered the buried remains, a human skull and a thigh bone, while building a driveway.
Expert anthropologist analysis was subsequently used to date the bones.The house is close to an ancient Saxon burial site, and English Heritage has expressed interest in the find. The forensic report of the bones will be passed on to the cultural preservation agency.
Police said the owners of the home have been informed of the development and no further investigations will take place.
Alison Carpenter, 41, who lives at the house on Riddlesdown Road with her husband Michael and children Zac, Jasmine, Joel and Toby, told the Evening Standard: "It could be someone really exciting like when they found Richard III's remains in the car park, but if it is not, I might never get my house back and there will be a blue tent in the driveway for a while.
"It would've been nice if we'd found gold or something but it's just some crusty old bones."
Local history experts told the Croydon Guardian that as only the head and another bone was found, the skull could belong to a beheaded Saxon criminal, but this is thought to be unlikely.
Croydon Natural History and Scientific Society's archaeology secretary Jim Davison said: "That whole area has been used as a burial area.
"You could have a decapitated body with the head by the feet or something but to determine that you would need to examine the bones in the neck."
David Brooks, museum assistant at Bourne Hall Museum in Epsom, added: "It's possible it is a beheaded criminal but normally the head is kept with the body.
"I think if it is Saxon then it is likely to be a disturbed burial that has been moved around.
In 2013, researchers at Leicester University announced that a skeleton found underneath a car park in Leicester in 2012 belonged to Richard III, the last Plantagenet king of England, who died at the Battle of Bosworth Field in 1485.
Richard Buckley, the lead archaeologist in the quest to find Richard III's remains, said the university team was convinced "beyond reasonable doubt" that it had found the skeleton of the king, which was bent by scoliosis of the spine and twisted further to fit into a hastily dug grave that was too small to hold his body.
However last month, leading archaeologists from Oxford and Winchester University challenged what was hailed as the most sensational discovery of the last century, saying that there is actually no real proof that the remains found under the Leicester car park belonged to Richard III.