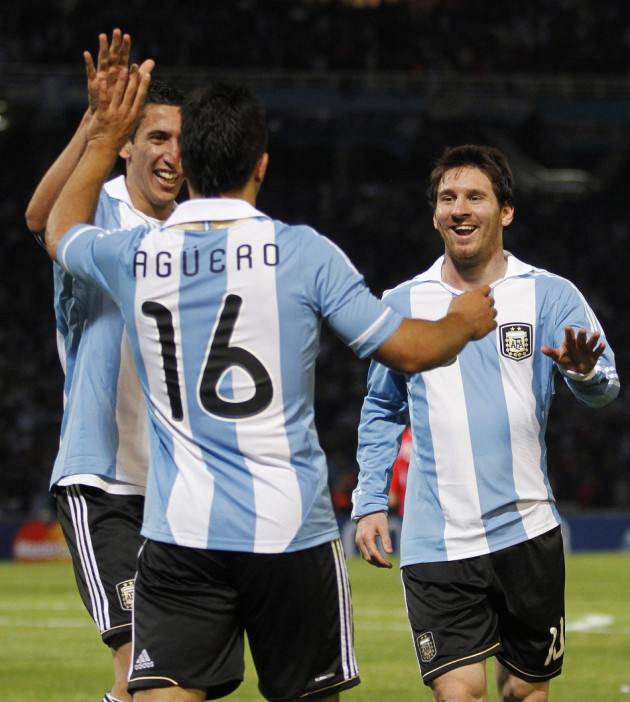 The pick of today's Premier League, Serie A, La Liga and Bundesliga football transfer rumours, news and gossip for 18 July 2011. All the latest transfer rumours surrounding Man Utd, Chelsea, Arsenal, Liverpool, Manchester City, Bayern Munich, AC Milan, Inter Milan, Juventus, Roma, Barcelona and Real Madrid will be covered here.
Premier League
The Mirror gets us started this morning with news that Sergio Aguero is prepared to take a "pay cut" to join the Manchester City revolution. Little Sergio says he's happy to accept £160,000-a-week contract to move to Eastlands, despite earning almost £6m a year in Madrid.
Also in the Mirror, Cesc Fabregas is expected to play for Arsenal against Cologne on Saturday despite making an appearance in the Daily Mail, "pleading" with Arsenal to be allowed to move back to Barcelona. Wenger has told Barca that they have two weeks to meet the Gunners' £40m asking price for their captain or the "deal is off".
Liverpool have "joined the race" to sign Fiorentina's 27-year-old winger Juan Manuel Vargas, with Aston Villa and Juventus also interested in the Peru international. Kenny Dalglish is also keen on Sunderland's £10-rated midfielder Lee Cattermole as the Liverpool manager continues his central midfield recruitment drive.
Meanwhile, Chelsea won't be signing Neymar this summer after the player's agent ruled out any potential move to Stamford Bridge.
La Liga
Barcelona defender Gerard Pique has stuck his two cents into the Cesc Fabregas debate, "Barcelona and its players have always spoken with respect. Any player would suffer when there is so much talk about his future and when you don't know where you will play next term. It's not disrespectful to say this out loud. I know what the situation is like. We should leave Cesc alone and show patience. There's still plenty of time to complete his proposed transfer. It doesn't help to talk about it all the time." Indeed.
Neymar isn't going to Chelsea but his agent, Wagner Ribeiro, reckons Real Madrid and Barcelona are fighting over the player.
"The exact situation is as follows: Barcelona want him next year and will pay next year, Madrid want him now and are prepared to pay now. The main problem is that the kid (Neymar) wants to play in the Club World Cup against Barcelona, and Santos are using their force to make him choose Barca."
Serie A
The Mancheter Evening News reports that Juventus could be about to make a bid for Manchester United striker Dimitar Berbatov. Speaking of United, Napoli coach Walter Mazzarri is confident Old Trafford-target Marek Hamsik will be plying his trade at the club next season, the club have "slapped" a €100m price tag on the Slovenian international. Finally, Sao Paulo's Casemiro wants to play in Europe in Serie A. He told Corriere dello Sport - via ESPN Soccer: "I feel ready to play in Serie A as well as other European Leagues," he said. "I often speak to Coutinho, but not just about Inter. I know that the Nerazzurri and Roma have asked after me, but you'd have to talk about these matters with my agent."