Actor and singer David Cassidy has been arrested for the second time in six months on suspicion of drink-driving.
Cassidy, 63, who found fame in the 1970s hit TV show The Partridge Family, was pulled over near Los Angeles International Airport on Friday after an officer spotted him making an illegal right turn at a red light.
After failing a breath test, which showed a blood-alcohol level of 0.19%, more than twice the 0.08% legal limit for the state, he was released on $15,000 (£9,000) bail and is due to appear in court on 5 February.
Last August, the star was stopped in New York on suspicion of drink-driving.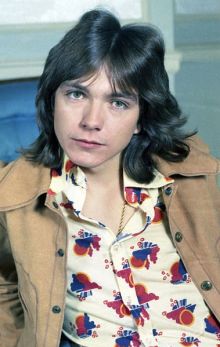 He has a conviction for driving under the influence (DUI) in Florida in 2011, for which he was sentenced to a year's probation and ordered to complete 50 hours' community service by a Florida court.
He was also arrested in St Lucie, Florida on 3 November 2010, when his car was spotted moving irregularly across a highway. He was asked to take a roadside test and failed.
Cassidy was found to be almost twice the legal limit with a blood alcohol reading of 0.141%. The legal limit in Florida is 0.08%.
On this occasion Cassidy did not appear in court because the charge was noted as a misdemeanour and he had no previous convictions.
Cassidy's manager and publicist Jo-Ann Geffen said on Saturday the singer's latest arrest happened after he had just finished a stint in rehab and was coping with being sober.
He was in LA for a lawsuit over money he claims he is owed from Partridge Family merchandise, videos and other material.
Geffen said: "After attending his and his manager's depositions, it appears as if the pressure led to a brief relapse.
"He was on his way to the airport to return to his home in Florida and to transitional rehabilitation.
"He plans now to return to rehab in an undisclosed facility."
Cassidy played Keith Partridge in the show from 1970 to 1974 and was a recording star and teen idol. His 1970s hit songs included Doesn't Somebody Want to be Wanted and Cherish.
Enjoy David Cassidy in his prime singing Daydreamer, on YouTube, below: