The week Hillary Clinton was announced as the formal Democratic nomination in the 2016 presidential race she moved that much closer to taking up the role as US history's first female in the White House.
Momentous as this is, the idea is currently conceivable, which means we have come a long way since 1995.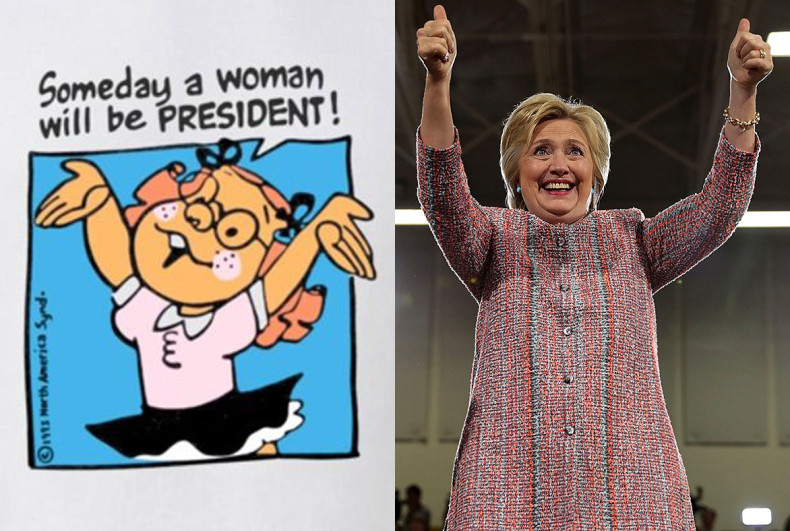 Prof Nick Kapur, from Rutgers University, New Jersey, shared a story on Twitter this week of a twenty-year-old tale published in The Tuscaloosa News from September 23 discussing Walmart's decision to remove T-shirts from sale with the caption "someday a woman will be president". The reason was that they were deemed to be offensive.
Nick Kapur then shared the whole article which detailed a Miami store pulling the T-shirts from sale after 'it was determined that the T-shirt was offensive to some people' despite the store having sold two thirds of the 204 T-shirts it had in stock.
The designer of the T-Shirt was Ann Moliver Ruben, a 70-year-old psychologist who had taken the image of a character of Margaret from Dennis the Menace and had the image printed on T-shirts to be sold the mass retailer.
In the article Ruben also explains that Sharon Higginbotham, a buyer for women's clothes at Walmart's national office in Bentonville, Ark., at the time told her "the store would not carry the shirt nationwide because the message 'goes against Walmart's family values.'"
However Nick Kapur was not the only person to pick up on the revived story as Alex Harris also tweeted to a story in the Miami Herald from the same year which highlighted the controversy that followed as a result of Walmart's decision.
Herald reporter Aileen Dodd wrote at the time "The controversy turned the T-shirt business of Miami Lakes psychologist Ann Moliver Ruben, 70, into a national enterprise. Customers who flooded Walmart with calls threatening to boycott the store – and sell their stock in the company because of the ban – made Ruben's design a hot item."
The psychologist then received 50,000 orders for her shirt from women's groups, as well as stores like Target. After that even Walmart order 30,000 more for their 2,188 stores nationwide in 1995, the Herald reported.
Today it seems that the company has changed their ways thankfully and a spokesperson reached out to Jezebel saying " "Wow, it still pains us that we made this mistake 20 years ago. We're proud of the fact that our country – and our company – has made so much progress in advancing women in the workplace, and in society."
Let's hope that Hillary Clinton manages to get hold of the said tee during the campaign to really prove how far we have come.