A car was gulped down by a huge sinkhole in the US city of St. Louis while its owner, along with his fiancée, was working out at a gym. The incident has not injured anyone.
The incident happened on Thursday (29 June) at around 7am (11am GMT). Jordan Westerberg and his fiancée had come to the gym for a morning workout in their white sedan, a Toyota Camry. After parallel parking his car between two other cars, the couple went inside the gym.
However, when Westerberg came back, he could not find his car in the parking lot. Initially, he thought that it might have been towed away, until he saw a group of people standing around the area where he had parked his car.
It was there that the 25-year-old found his car in a sinkhole which was approximately 20 feet (6 meters) deep and 8 to 10 feet (2.5 to 3 meters) across, Westerberg told the St Louis Post-Dispatch.
"It's pretty crazy. We could've been in the car. It's a compact car. It's not like its heavy," he said, adding the hole had gulped down the whole southbound lane of North Sixth Street, between Locust and Olive streets.
The car was brought back up at around 9am using ropes. "A little shaky. I don't know, but it's crazy. I'm just glad we weren't inside. It looks like the windows were broken, it is like half full of water now," Westerberg said.
An investigation is on to find what caused the collapse, though it is believed that an 8-inch below-ground water main at the site, which had been broken for some time, might have contributed to the erosion.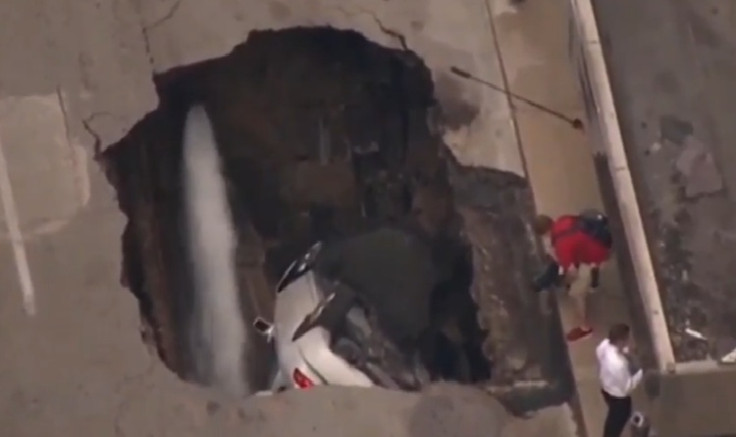 "We don't know what happened. It may not have been a break in the main. The street may have collapsed on the water main. There could be a big void under there," water distribution superintendent for the St. Louis Water Division, Vincent Foggie, said.
"I have no idea where the dirt went," he said, adding other utilities will have to take stock, too, as sewer and electric lines run underground there as well.
It was also reported that a section of Sixth Street in downtown St. Louis may be closed for up to two weeks because of the hole.