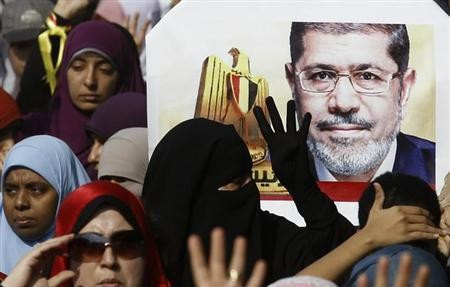 At least 23 people have died in violent clashes in Egypt's southern Aswan province in two days, officials reported.
A vicious feud between an Arab Beni Hilal clan and a Nubian family caused dozens of deaths, and homes have been burned down.
The violence is believed to have been sparked by the alleged harassment of a girl, and after students from the two clans daubed offensive graffiti at a local school.
The Nubian students' graffiti accused members of the Arab clan of working for the former governments of ousted President Hosni Mubarak and overthrown Islamist President Mohamed Morsi, witnesses said.
Arab Beni Helal members were also accused of taking part in arms- and drug-smuggling.
On the other hand, the Arab clan's graffiti accused the Nubians of backing the army, led by former military chief Abdel Fattah al-Sisi, who led the military overthrow of Morsi and is now running for presidential elections.
Health official Mohammed Azmi told private television station CBC that 23 people were killed and 12 are in critical condition. A local government statement said 31 were injured.
Ambulances failed to reach the neighbourhood were the two factions live, leaving bodies strewn around the area, witnesses said.
A Nubian resident said he locked himself and his family inside their house to avoid revenge attacks. He said two members of his family were killed in the fighting.
"There is terror now in the area," he said. "At the outset, we'd call the police and they tell us, 'You work it out.'"
Revenge killings occasionally occur in southern Egypt, as violations of honour often spark violence, an Interior Ministry statement said.
Schools in the area affected will be closed until calm is restored.
A joint statement from the two clans accused "invisible hands" of igniting the feud, Al Jazeera reported.
In a Facebook post, military spokesman Colonel Ahmed Mohammed Ali blamed members of Morsi's outlawed Muslim Brotherhood movement of trying to ignite the fighting. He did not offer evidence to support the claim. Egypt's military-backed interim government routinely blames the group for violence.