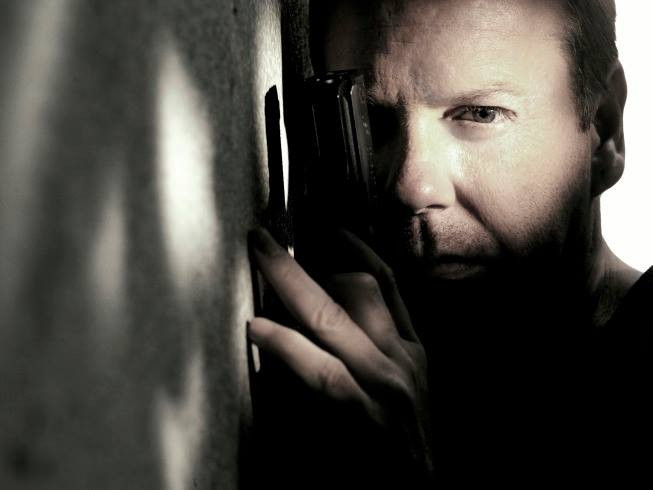 Jack Bauer is back to the dark world of crime and he is angrier than ever in the reboot series of the high-octane crime thriller '24', where he will again save the world.
Fox's 24: Live Another Day, will be a 12-episode series that will show the clock ticking journey of former counter-terrorism agent Jack Bauer played by Emmy Award winner Kiefer Sutherland.
The show opens four years after the end of the 8th season in 2010 in London where Jack is living an exiled life after been betrayed by the US government when he attempted to stop a Russian conspiracy. In the latest 24 reboot series Jack will attempt to stop a major terror attack.
"He's angrier, He's working for himself now," Sutherland told LA Times about the current mental status of his character, Jack. "His patience to deal with things in a legal fashion doesn't really exist.... Opening that up again made me quite nervous in the six months of prepping for the thing."
The latest reboot of the thrilling series has reunited most of the cast including Mary Lynn Rajskub, who plays Chloe, Jack's closest ally from CTU (Counter Terrorist Unit) and Kim Raver, smitten by Jack and William Devane as the US President.
Live Another Day also promises to retain its real time and pulse racing format intact and the show has also included several new cast members, including Benjamin Bratt as the paranoid CIA chief, Yvonne Strahovski and Tate Donovan.
"It's a real-time show. We're covering the events of the day. We're not saying how exactly," co-producer Evan Katz explains the new 12-episode format to Hollywood Reporters.
"I think there is some compression in the storytelling involved in that we cut out the boring parts."
"We knew we had less time to tell these stories so we couldn't have that episode that would usually crop up around 17 or 16 where we had to kind of vamp for a while until we figured out what the rest of the season was going to be," co-producer Manny Coto explained the new format of the action thriller to THR.
"The transition episodes, those are gone. So in this situation, every episode is kind of the big episode," he added.
24: Live Another Day will air a special two-hour premiere episode on Fox at 8pm on Monday, 5 May in the US while Sky1 will air the show at 1am on Tuesday, 6 May in the UK as part of a simulcast premiere.
Amazon's Prime Instant Video has snatched the streaming rights for the action series from Netflix and will allow fans the exclusive streaming right for all eight seasons and 192 episodes along with the latest series which will be available for streaming later this year.
Watch the 'Jack is Back' special segment here.