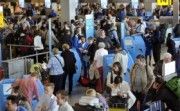 Net migration hit an all-time calendar year high of 252,000 in 2010, the Office of National Statistics reported today.
The main driver has been the decline in people leaving the UK with emigration figures reaching a ten-year low during 2010.
Overall, 339,000 people left the UK and 591,000 entered which is likely to further add further pressure on the Home Office who promised that immigration numbers would be cut by the end of this parliament.
Immigration minister, Damien Green, said: "I will be announcing reforms to settlement and the family route which will help bring net migration down from the hundreds of thousands to the tens of thousands over the course of this Parliament."
The figures, however, do show a fall in the number of student applications.
"The quarterly figures show a decrease in the number of student and work visas issued compared to a year earlier - an early sign that our policies are starting to take effect," said Mr Green.
The report comes a day after the immigration office announced controls on the number of Bulgarian and Romanian nationals working in the UK would be extended until the end of 2013.
In a continuation of an existing contract, nationals from the "A2" countries seeking to work in the UK will require permission from the UK Border Agency (UKBA).
The UK is suffering an 18-year all-time high in unemployment, with over one million people under the age of 24 also looking for work.
It has brought pressure on the Home Office to prevent those outside the UK market from obtaining work within their home country.
Mr Green said: "Maintaining these controls will make sure migration benefits the UK and does not adversely impact on our labour market. The government is radically reforming the immigration system, and has already announced an annual limit on work visas and tough new rules for students to ensure net migration is reduced from the hundreds of thousands to the tens of thousands."