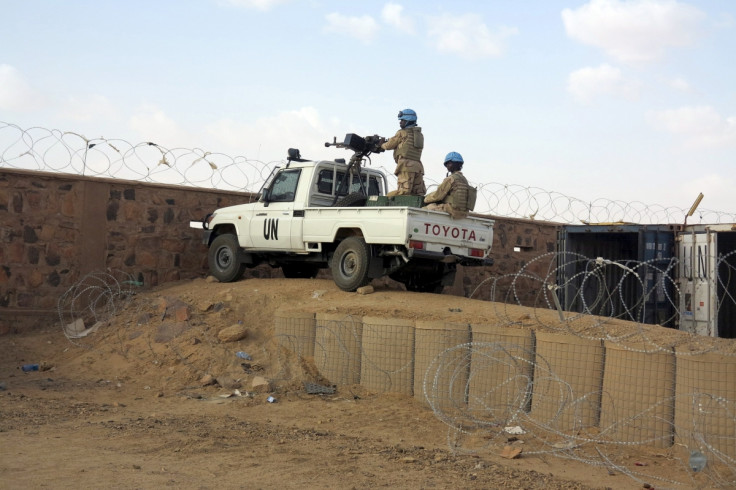 At least two peacekeepers and one civilian were killed and 20 people injured, after gunmen fired rockets into a United Nations' base in northern Mali. Four of the wounded have been described as being in a "serious condition".
"Four or five rockets landed inside the base," Olivier Salgado, a spokesman for The United Nations Multidimensional Integrated Stabilization Mission in Mali (MINUSMA) told Reuters.
"Quite a few people were wounded, but it's too early for a precise number," Salgado said. He added that the attack began at around 4am GMT.
The facility in Kidal is around 1,000 miles to the north-east of the country's capital Bamako.
Hotel attack
The rocket attack comes just over a week after at least two gunmen stormed the Radisson Blu hotel in Bamako killing 19 people, including six Russians, three Chinese nationals, and an American. Three Islamist terror groups – Al-Qaeda in the Islamic Maghreb, a splinter group of al-Mourabitoun and the Massina Liberation Front – all claimed responsibility for the attack, the worst strike by Islamist extremists in Mali for years.
Two attackers were killed after Malian commandos retook the hotel and freed 170 hostages, following a siege lasting several hours. Another two people were arrested in connection with the raid this week.
A member of the French special forces unit the Groupement des Commandos Parachutistes (GCP) also died earlier this week from injuries sustained in October. The vehicle he was travelling in was struck by a landmine, France's presidential office said.
France deployed troops to Mali in 2013, after an ethnic Taureg rebellion in the north was hijacked by al-Qaeda affiliates which seized large swathes of land and threatened Bamako. France's intervention and UN peacekeeping missions returned control of the region to the Malian government. But Islamist cells continue to operate across the vast desert areas in the north, often crossing in and out the porous borders of neighbouring countries.