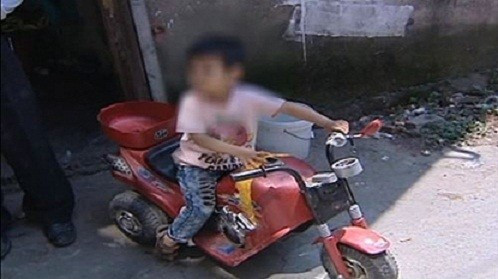 A toddler had a narrow escape after he pedalled his toy trike down a hectic major city road in Wenzhou, east China's Zhejiang Province.
In the astonishing surveillance footage the three year old, circled in red, can be seen pedalling right into the direction of oncoming traffic. Narrowly missing a big green bus, another car only just manages to swerve out of the way of the vulnerable child.
A police officer, surnamed Zhang, spotted the child and quickly acted to take them away from the busy intersection. Zhang stated: "It took place at about 17:30 yesterday afternoon during rush hour, with huge passenger and traffic flow."
The little boy was then taken to his grandfather, who reportedly told police that he looks after the toddler every day due to the work commitments of both the boy's parents. He stated that he only lost sight of the boy because he went to the toilet, and thanked the officer for saving the child from a grisly fate.