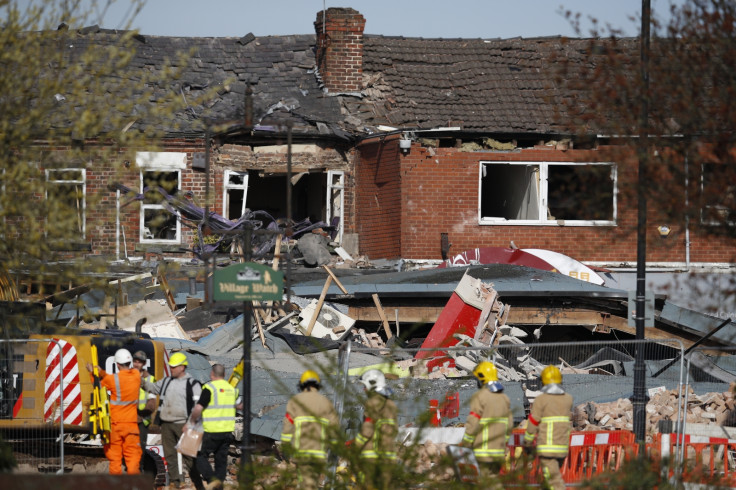 Around 34 people have been injured in a suspected gas explosion in Wirral on Saturday (25 March), including two seriously. Although the source of the explosion has not yet been confirmed by police or fire services, early reports suggest local residents had smelled gas in the area.
The explosion also caused "significant damage" according to chief officer at Merseyside Fire and Rescue Service, including the total collapse of the Complete Works dance studio. According to reports, the blast could be heard as far away as six miles from the site of the explosion.
Local resident Martin Lennon, 53, who moved to the area in the last week said the explosion on Bebigto Road was "like a war zone".
He said: "We were sat watching television as normal, and it seemed to happen in slow motion. The curtains lifted up, the door and windows blew in – we didn't know what was happening. Our front door was lying on the staircase, and our front garden wall was blown down too.
"We had to evacuate as quickly as possible and took our dogs with us.
"The next minute there were hundreds of people, the community pulled together. People were knocking on doors checking there was no one inside. I saw one man lying on the floor.
"It was like a war zone, it was a nightmare. There was debris everywhere. My van outside had moved about three feet, and the whole front had caved in."
More than 100 people were evacuated from the area and moved to the local Life Church on Old Chester Road which is being used as a base for those affected by the explosion, according to local reports.
Stephens told the BBC he expected it may be some time before residents were allowed to return to their homes.
He said: "This incident is likely to be protracted. There is very significant damage, so it will be some time before people will be allowed back into their homes."
Those seriously injured were taken to Aintree Hospital in Liverpool while lesser injuries were treated at the Countess of Chester and Arrowe Park hospitals, both in Merseyside.
Local journalist Josh Parry of the Echo told the BBC that customers of a neighbouring Chinese restaurant – next door to the dance studio – could have been injured in the blast that was attended by around 12 ambulances and 30-40 firefighters.
The local community was said to have rallied together in the aftermath of the explosion, and a crowdfunder was already in place on Sunday to help source a new studio for Complete Works. Almost £2,000 of the £10,000 target had been raised by Sunday afternoon.