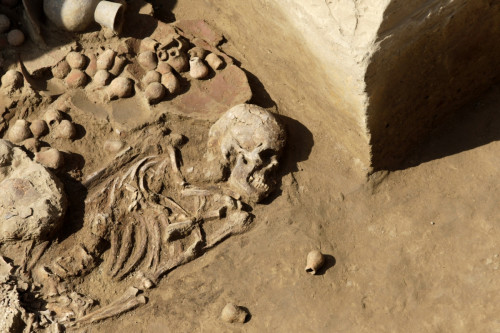 Archaeologists have unearthed 3,500-year-old skeletal remains of couples buried facing each other and holding hands in Siberia.
The extraordinary discovery, which dates from the Bronze Age, was made in Siberia's Staryi Tartas village where archaeologists have studied 600 tombs.
Dozens of graves contain couples buried in an embrace. Some of the bodies were buried crouched on the side of the tomb, along with children.
Experts speculate a number of hypotheses behind such a burial, one being a situation where the man died and his wife was killed to be buried alongside him.
"We can fantasise a lot about all this," Professor Molodin, a director of research at the Russian Academy of Sciences, told The Siberian Times.
"We can allege that husband died and the wife was killed to be interred with him as we see in some Scythian burials, or maybe the grave stood open for some time and they buried the other person or persons later, or maybe it was really simultaneous death," he said.
Molodin said that once they establish the kinship between the buried individuals, they would have clearer picture of the burial ritual.
"When we speak about a child and an adult, it looks more natural and understandable. We found the burial a man and a child. What is a degree of their kinship? Are they father and son or....?
"The same question arises when we found a woman and a child. It should seem obvious - she is the mother. But it may not be so. She could be an aunt, or not a relative at all."
Another professor, Lev Klein of St Petersburg State University, suggests that the buried couples are linked to reincarnation beliefs.
Scientists are seeking to unravel the secrets of the mysterious burials in about five to ten years with the help of DNA tests.