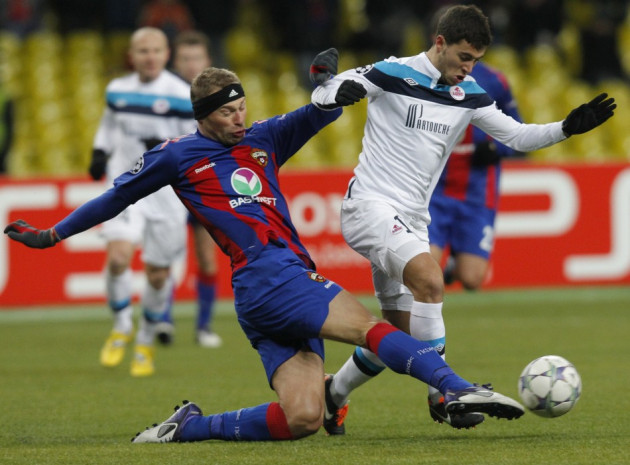 Arsenal-target Eden Hazard expressed his disappointment at Lille's Champions League exit but said the French side would come back stronger next season.
Lille failed to qualify for the knockout stages after a 0-0 draw against Trabzonspor saw them finish bottom of Group B.
Hazard, 20, who has been heavily linked with a move to Arsenal next summer, revealed his disappointment and frustration at the Ligue I side's European exit.
"It's a huge disappointment as we had every chance of going through. In the first half, we had plenty of opportunities but failed to put any in the back of the net," Hazard told UEFA.com.
"I think we did everything as perfectly as we could have in this match. We just lacked a little luck in front of goal. We dominated possession. It's hard to take because we just needed one goal to go through.
"On the other hand, you mustn't forget that we're a very young team. Lots of players were playing in the Champions League for the first time. These are the types of games you learn and improve in."
Lille missed out on a Europa League place after CSKA Moscow scored a late winner against Inter at the San Siro but Hazard believes the side will have gained invaluable experience from their first foray in the Champions League.
"In terms of the quality of our play, we were the best in our group. Unfortunately, in football it's not always the best team that wins," he added.
"We've gained experience over these six matches, and that can only be good for this team in the future. We're not a great side yet. Great teams know when to shut up shop and score at the right time, and that's what we need to learn."
However, the Belgian midfielder has hinted that this could be his last season in France, with Arsenal keeping close tabs on the highly-rated youngster.
Arsenal failed with a bid for Hazard in the summer but manager Arsene Wenger will have been encouraged by the midfielder's recent comments.
"I feel ready to make it to the next level at a big club," Hazard told L'Equipe. "I stayed in Lille this season because there were still things I had to work on, things to prove. But now, I'm ready."
The Arsenal manager has previously been discouraged by Lille's valuation of the player, with club president Michel Seydoux adamant he will not accept anything less than €50m for the playmaker.
Nevertheless, Seydoux admitted he could accept a reduced fee for Hazard if the terms of the deal were attractive.
"There is a real chance that he will stay at Lille if we have a good season and he still sees challenges here," Seydoux told RTL.
"If we don't do well, it's probable that he will leave the club after this season as there's plenty of interest.
"Will €50 million be enough? Nobody is irreplaceable and there are solutions for that kind of money."