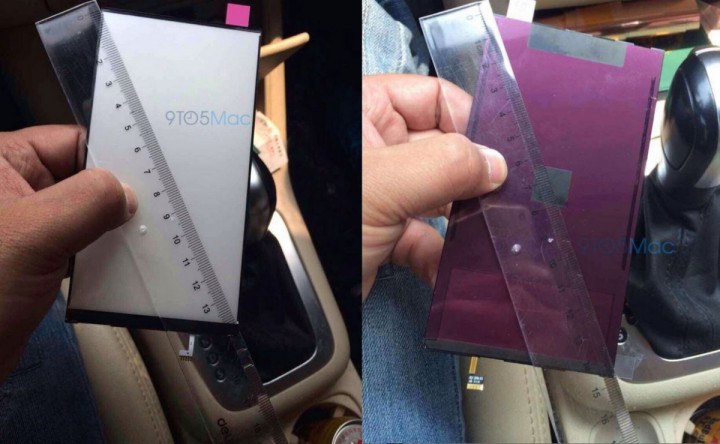 A couple of photos of Apple's next-gen iPhone featuring a large screen at 5.5in have appeared via a leak.
There have been rumours for quite a long time that Apple is likely to come up with two variants of iPhone 6 of screen size 4.7in and 5.5in.
The 4.7in iPhone 6 has been leaked on several occasions whereas its sibling with an even larger screen has not been seen much.
9to5Mac has now published a couple of photos of the 5.5in iPhone 6, revealing an LCD display component of the handset (see the above photos). The photos, shared by Sony Dickson, shows a ruler being placed on the iPhone 6, suggesting the diagonal measurement of the screen is 14cm, which when converted to inches is 5.5in.
Although the photos do not reveal any specification of the new iPhone it does hint that Apple is producing components for the 5.5in handset. This again indicates that the mass production of the device is nearing.
The 5.5in iPhone 6 is said to be in short supply for its initial launch and might be released several weeks after the roll out of the 4.7in variant.
In other related news, the 5.5in iPhone 6 will use a sapphire crystal screen. The device is reportedly facing production issues due to low sapphire crystal yield rates. This is likely to continue until the end of the year.
As for other features, the iPhone 6 is expected to have an NFC radio, allowing users to make payments using their iPhones. Apple is likely to use its own mobile payment system that will compete with ISIS and Google Wallet.
Besides, the next iPhone will have a faster category 6 LTE radio, which is capable of 300Mbps connection speeds, and a wireless charging feature.