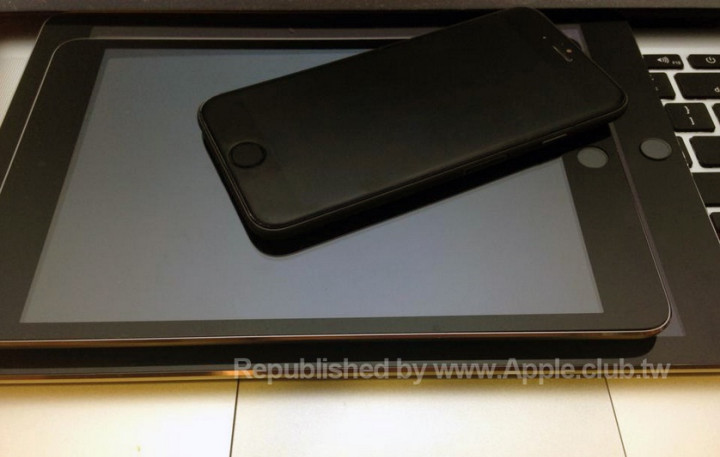 An image showing Apple's next generation iPad Air, iPhone and iPad mini has leaked online.
The photo, from Taiwanese retailer Apple Club, shows Touch ID fingerprint sensor on the upcoming iPhone 6, iPad Air 2 and iPad mini 3. As seen in the above image, the new iPad mini is placed on the iPad Air 2 while the iPhone 6 is on top of both the devices.
The iPhone 6 has often been rumoured featuring Touch ID whereas recently a fresh bunch of photos of the successor to the current iPad Air leaked suggesting the new tablet will have Touch ID sensor built into the home button.
For the first time, the new iPad mini, otherwise known as iPad mini 3, has been spotted incorporating Touch ID Sensor.
This is not the first time Apple is rumoured to be using Touch ID sensor, which was introduced in the iPhone 5s.
A new research note from Ming-Chi Kuo, KGI Securities analyst, suggests that Apple will include Touch ID sensor across all new iOS devices in 2014, such as iPhone 6, iPad Air 2 and iPad mini 3, reports MacRumors.
Apple's Touch ID module should see shipments soar 233% in 2014. We believe every new iOS device launched this year will be equipped with Touch ID, including 4.7" and 5.5" new iPhone 6, iPad Air 2 and iPad mini 2 with Retina display. Considering shipments of new products and iPhone 5S sales last longer than in 2013, we forecast unit sales of the fingerprint sensor module to grow 233% to 120mn for 2014.
Kuo also claims Apple will change its Touch ID module design in order to use tin over previously used chemicals for enhancing durability. Taiwan Semiconductor Manufacturing Company and its subsidiary XinTec are said to be the top contenders for producing fingerprint sensors.