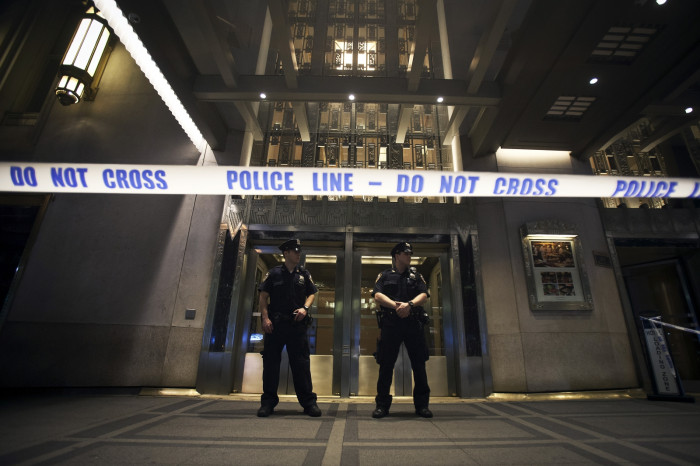 Five wedding guests have been injured in a shooting at New York's luxurious Waldorf Astoria Hotel, which police believe occurred when a gun went off in another's guest's pocket.
Guests were posing for photographs in the lobby at 7.25pm (13 June) when a gun belonging to Vladimir Gotlibovsky, 42, from Brooklyn, discharged in his trousers.
The bullet, which left a hole and singe marks in his pants, ricocheted off the floor, grazing the head of Maya Rafailovich, 55, from Brighton Beach.
The New York Post reported that Rafailovich was wheeled out to an ambulance on a gurney, still wearing a black cocktail dress, with a bandage wrapped around her head with an angry expression on her face.
Rafailovich's daughter, who declined to give her name, said her mother was undergoing tests in hospital.
Four other guests were injured by flying glass, tiles and marble and three of them taken to the nearby Bellevue and Roosevelt Hospitals. None were seriously injured, according to police.
A New York Police Department (NYPD) source said: "It's looking accidental — there's a hole in his pocket. The woman hit was in no way the intended target. We need to know what happened. Guns just don't go off. And we know it wasn't a shotgun wedding."
Gotlibovsky was photographed by local media being marched into custody, still in a smart wedding suit, hands behind his back, proclaiming his innocence. Apart from ruined trousers, he is believed to be unscathed.
"We have various video and evidence that we are looking at to further the investigation," said NYPD Chief William Aubry.
Other guests were stunned by the incident, which took place at one of the world's most famous hotels. The US President stays at the Waldorf Astoria during the United Nations General Assembly.
"The police came out with a balding husky guy wearing a suit,'' said Canadian tourist Tina Fallis. "It's like something like you see on CSI."
On the same day as the New York incident, a young woman in France was killed when a wedding guest, driving past as part of the procession, apparently accidentally shot her in the head.