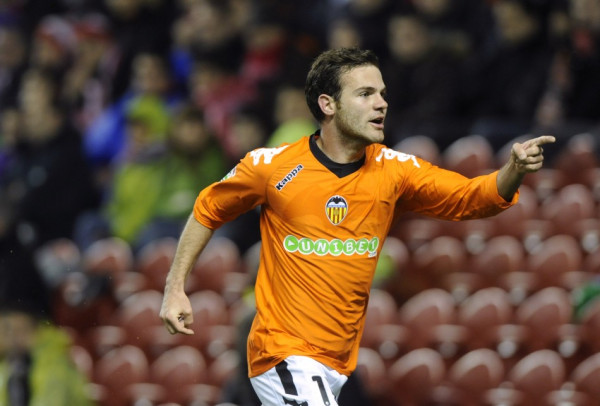 The pick of today's Premier League, Serie A, La Liga and Bundesliga football transfer rumours, news and gossip for 5 July 2011. Any transfer gossip surrounding Manchester United, Chelsea, Arsenal, Liverpool, Manchester City, Bayern Munich, AC Milan, Inter Milan, Juventus, Roma, Barcelona and Real Madrid will be covered here.
Premier League
Having realised the impracticalities of selling the club's only decent left-back, Arsene Wenger will attempt to assuage fan fears that Kieron Gibbs could make the Gunners' first-team by paying over-the-odds for yet another skittish French defender. The maths this time involves Lyon left-back Aly Cissokho and £11m, according to footybunker.com.
With Cesc Fabregas's tedious Barcelona transfer set to be tied up sometime this week, Wenger will demonstrate Arsenal's ambition with what is traditionally known in transfer-rumour vernacular as a 'double-swoop'; Lille playmaker Edin Hazard and Valencia's Juan Mata are his intended targets.
Liverpool are keen on midfield scamp Aaron Lennon and are prepared to offer up Anfield flop Alberto Aquilani plus £12m for the nippy England international. On the subject of over-rated midfield show-ponies, Joe Cole's ignominious Merseyside career could be drawing to a close with QPR reportedly interested in the former saviour of English football. "The Anfield chief is also chasing Aston Villa winger Stewart Downing and Blackpool skipper Charlie Adam," the Sun adds.
Talking of former promising youngsters, Chelsea manager Andre Villas-Boas could offload lumbering midfield plodder John Michael Nchekwube Obinna -- also known variously as Mikel John Obi, John Obi Mikel or John Mikel Obi -- to fund the transfer of Real Madrid hard-case Pepe.
Andre Villas-Boas sees the Portuguese centre-half as "the first brick in his Stamford Bridge revolution" -- a description which sortof sounds like a crummy student indie-reggae band band but whatever. The second brick his pseudo-revolt could be Argentine midfielder Javier Pastore who looks set to leave Palermo this summer. Club president Maurizio Zamparini told GR Parlamento, "I think there is a 90 per cent chance that he will leave because that is the player's desire when you consider the clubs who want him."
Meanwhile, moody Frenchman Nicolas Anelka could re-join Paris St Germain who are keen on pairing the Chelsea striker with Manchester United aesthete Dimitar Berbatov to create the surliest strike-force in Europe.
Talking of itinerant, goal-scoring sulks, Carlos Tevez has reminded Manchester City fans that yes, he is still a City player but no, he doesn't want to be here.
"It is with great regret that I have to inform Manchester City of my wish to leave the club," yes, that's Carlos Tevez. Should Roberto Mancini offload their £250,000 per week captain they could bring in his Argentina international team-mate Sergio Aguero -- but they face strong competition from Juventus.
On the subject of baby-face scamps, Manchester City are set to miss out on Napoli midfield terrier Marek Hamsik. The Slovakian midfielder says he wants to join AC Milan if he leaves Naples this summer, according to TalkSport.
La Liga
Cesc Fabregas's permanent position in gossip columns across the land could be drawing to a close. The Guardian reports that Cesc will today formally confirm his desire to leave Arsenal and move to Barcelona. Barca have had a bid of £27 million rejected, but should up that to £35 million and finally, after three-wretched years, put the whole matter to bed.
In non-Fabregas related news, AS claim Barcelona are negotiating with Fenerbahce over the transfer of left-back Andre Santos. The Turkish club have already dropped their asking price from €16 million to €13 million.
Serie A
Talking of wantaway Arsenal midfielders, Samir Nasri is still dragging his heels over a contract but Wenger is reluctant to sell the playmaker to another Premier League side. The Frenchman values his compatriot at around £20m but, with just one year left on his current deal, the 24-year-old is likely to leave for around £12m. Inter Milan are keen, according to the Daily Mirror.
Finally, Giuseppe Rossi's agent has told Tuttosport the Villarreal striker would be open to a move to Juventus.
"[They] are a top club for their history, for the people who run it and for their future ambitions," he said.
"It's a possible avenue and the directors are keeping themselves informed. We are talking about an Italian player who reminds people a little of Alessandro Del Piero.
"Let's just wait and see how things develop, even if I have to admit that there has been nothing official from Juventus."