50 Cent is still upset about his penis being exposed during a sex scene in TV series Power. The Candy Shop rapper, real name Curtis Jackson, had an angry outburst earlier in August after realising his manhood was on display in episode four of season three. Opening up about his ordeal, Fiddy has told Jimmy Kimmel that he was somewhat blindsided by Power's creator Courtney Kemp.
In the particular scene, 50 Cent's character Kanan is seen pleasuring himself while love interest Candie, played by Natalie Paul, watches on half-naked. Hours before the episode aired on the Starz network on 7 August, 50 Cent accused Kemp of allowing his penis to be flashed momentarily without his permission.
Addressing the controversy, the 41-year-old said on late night talk show Jimmy Kimmel Live: "It wasn't like an accident. Courtney was like, 'I didn't want to show it to you in the beginning, because I didn't think you needed to see it at that point... You just gotta take one for the team'. She said, 'I would do it but I just don't have one'. The other characters have 10 sex scenes on the show but nobody's showing you the front and stuff like that. What's going on?"
50 Cent, who also executive produces Power, went on to share the reaction of his beloved aunt Geraldine, who did not bargain on seeing more of her nephew than she wanted. He said: "My aunt sees the show, and she's like, 'I'm traumatised'. She texted me like, 'What the f**k? Why didn't you tell me?' I said, 'I didn't know either, I just cussed Courtney out'."
The hip-hop mogul continued: "I knew it was there, but in the original clips, it was darker. It wasn't on, like, a big screen, like a life-sized version. It's a complex scene, I've been rehearsing. But [on this one I'm touching myself]. The [actress] is concerned because she's like, 'I've been standing here for a while with her breasts out."
Aside from Power, which has been renewed for seasons four and five, 50 Cent is keeping himself busy with other TV projects. It was previously confirmed that the musician would be developing a superhero series titled Tomorrow, Today, after extending his contract with Starz to produce more shows.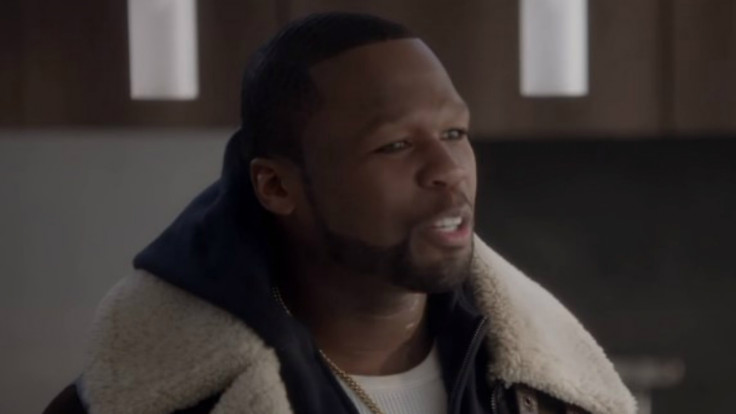 The Notorious star has also announced his plans to create a Starz show about the Black Mafia Family after receiving approval from the notorious drug trafficking organisation's founder Big Meech.
In a statement about his ongoing partnership with Starz, 50 Cent said: "I am looking forward to continuing my relationship with my Starz family, we have had great success together on Power and I am excited to get going on all of our upcoming projects together. I knew Starz would be the perfect home for Tomorrow, Today. This project is very personal to me... creating it, writing it, finding the best team for it and I will continue to be involved every step of the way."
Watch 50 Cent's interview on Jimmy Kimmel Live: