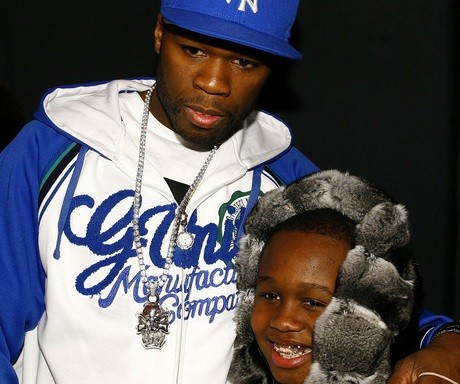 50 Cent has rewritten his will just hours after a string of profanity-filled text messages he sent to his 16-year-old son Marquise leaked online.
During the conversation, released by RadarOnline.com, the rapper-turned-businessman appeared to call his son a "sh*thead", "motherf***er" and "f***ing stupid".
The site claimed he had become angry when his son refused to open the door to him during a custodial visit.
But the music mogul, born Curtis Jackson, has since claimed that the messages were from him but it was his son's mother, Shaniqua Tompkins, who was responding to him during the one-hour exchange.
50 Cent and Tompkins are embroiled in a bitter custody battle over the boy.
The hip-hop star used Twitter to defend his actions, claiming that Tompkins was pretending to be her son in an attempt to provoke him.
"That was his mother texting me as him. she sold that to a web site.she hate me for Winning, it's hard to replace me," he told his 7.4 million followers.
"Read the text carefully you will see what I'm saying" he added.
Jackson also revealed that he had adjusted his will to ensure that his son did not receive any of his estimated $125m wealth.
"Rewrote my will today now when I pass away all my physical property's and MOST of my money go's to charities and TIFFANY LIGHTY so when I'm done she can be 50cent." He tweeted.
Tiffany is the 17-year-old daughter of the late music executive, Chris Lighty, Fiddy's former manager and friend.
He was found dead in August 2012 at his New York apartment with a gunshot wound to the head.
Earlier in July 50 Cent was arrested on domestic violence and vandalism charges following an alleged row with ex-girlfriend Daphne Joy.
He is accused of attacking the former model - who is mother to his other child - and smashing up her apartment.